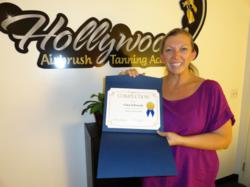 Spray tanning only takes 10 minutes when using an HVLP spray gun. As a result of this increasing demand, a number of spray tanning businesses are beginning to come up in different parts of the country
Los Angeles, CA (PRWEB) March 07, 2013
Hollywood Airbrush Tanning Academy has once again hit the headlines in the country's beauty and wellness industry. Their most recent student Gina Edwards is all set to step into the emerging field of spray tanning. The California based spray tanning training center has been offering top class training support helping individuals make their mark as professional spray tanning experts. Interestingly, Gina Edwards has successfully spent more than a decade in the property management sector. It may be recalled that Hollywood Airbrush Tanning Academy has assisted several other professionals from different industries to make a similar career shift with their business oriented training.
Hollywood Airbrush Tanning Academy is owned and managed by Simone Emmons, a highly proficient airbrush tanning expert with a wealth of experience. In addition to the advanced spray tanning techniques of sunless tanning, she also provides all the essential business development and promotional support to her trainees. Talking about her experience of getting trained by Simone, Gina says, "The hands-on training was superb! Simone is such a wonderful person who is passionate about the industry and not afraid to shed light on all of the industry secrets. I'm so glad I took the training, well worth it!" Gina is now the proud owner of her business Gina's Airbrush Tanning, serving a wide range of locations across Los Angeles and Orange County, specifically, she will be serving the areas of Cerritos, Lakewood, Signal Hill, Long Beach, Cypress, Los Alamitos, Rossmoor, and Seal Beach.
Airbrush or spray tanning is considered to be the next big thing for people who love to get tanned. Unlike the traditional form of tanning, this form does not involve exposure to the harmful ultraviolet radiations. Spray tanning only takes 10 minutes when using an HVLP spray gun. As a result of this increasing demand, a number of airbrush tanning businesses are beginning to come up in different parts of the country. Explaining her future goals as a spray tanning professional, Gina says, "I want to be not just a good technician but fantastic! I hope to specialize in competition tanning, bikini, physique, fitness, figure & body building. I know that so much work goes in to ones body to look like that, therefore, I want to compliment that body with the fantastic tan that it deserves...I will be an asset to the industry!" Gina's Airbrush Tanning can be reached at 916-600-1580 or at her website at http://www.ginasairbrushtanning.com.
About Hollywood Airbrush Tanning Academy:
Hollywood Airbrush Tanning Academy is located in Los Angeles, California and offers an extensive Airbrush Tanning Certification program to anyone who wishes to learn the art and business of spray tanning. Simone Emmons, the creator of the spray tanning training program has been a professional, licensed spray tanning technician and teacher and has helped numerous entrepreneurs from Utah, Colorado, Nevada, Minnesota, Arizona, South Carolina, Washington, Oregon, Florida, California and the Island of Hawaii and Trinidad start a business in Airbrush Tanning. The spray tanning program is unique because it provides hands-on and private spray tanning training to individuals who want to start an Airbrush Tanning Business. According to Emmons, this spray tanning program gives individuals a leading edge in starting an Airbrush Tanning business immediately after finishing with the training. Students have the option to choose from a full day course of 10-12 hours or two half day courses of 5-6 hours a day or through live video conferencing. The academy is also launching a website soon so students can learn Airbrush Tanning Online. Many tanning training institutions only educate students on their own equipment and products they sell, however Hollywood Airbrush Tanning Academy does not sell any of their own products and provides training and education on all equipment and good products in the airbrush tanning industry.
Individuals interested in learning and starting a career in airbrush tanning should visit the website at http://www.HollywoodAirbrushTanningAcademy.com or for more detailed information about the course at 1DaySprayTanTraining.com