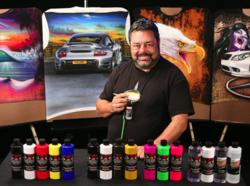 The Airbrush Getaway is the world's best airbrush immersion program.—Cliff Stieglitz, Airbrush Action's publisher
(PRWEB) July 27, 2012
A Chinese proverb holds that "the journey of a thousand miles begins with the first step." Similarly, an old airbrush proverb holds that "the quest for airbrush mastery begins with a class taught by a legend."
The ultimate hands-on art course, Introduction to Airbrushing, conducted by airbrush icon Terry Hill promises to accelerate the skills of new airbrush artists and provide an excellent foundation for the subsequent four-day classes held October 9 through 12 at the new Tropicana Las Vegas Hotel & Casino, 3801 Las Vegas Boulevard South.
Hill is a true pioneer in the airbrush T-shirt industry, and as head instructor he'll put students through the paces with drills, introduction to the various types of airbrushes, maintenance, air sources, safety issues, painting surfaces, preparation, and much more.
Mr. Hill transcends T-shirt airbrushing, and he's one of the most recognizable names in the field. Based in Destin, Florida, he has been airbrushing for more than 30 years, and is a frequent contributor and editor to Airbrush Action magazine, and a vital fixture at the esteemed Airbrush Getaway workshop program. Veteren Cheryl Vaughn, Hill's assistant, is a skilled airbrush make-up and T-shirt artist.
The workshops have attracted students from corporations as diverse as Disney, AT&T, Boeing, Texas Instruments, Hallmark and many others, as well as freelancers, small business owners and students of all skill levels.
The cost for this one-day course is $150, and includes all supplies and equipment. One day courses include Introduction to Airbrushing, T-Shirt Lettering Bootcamp, Airbrush Tattoos, Intro to Pinstriping, Intro Murals on Steel, and Intro Automotive Graphics. Four-day course include Airbrush Mastery, Ultimate Airbrush Effects, Automotive Graphics, Achieving Photorealism, Power Portraits, Automotive Murals on Steel, and others. For discounted room reservations, call 800-634-4000 and mention "Airbrush Getaway Workshop, group code SAIR10." For more information, call 800-876-2472 (international callers: 732-223-7878), or visit Airbrushaction.com.
Former Student Quote:
"It's so professional, so well done. I'd never held an airbrush before, but these folks instill the confidence."
—Ray Meckel, Rosenthall Signs and first-time Getaway attendee
About the Airbrush Getaway:
"The Airbrush Getaway is a one-of-a-kind event—the world's best airbrush immersion program," explains Cliff Stieglitz, Airbrush Action's publisher. "It's ideal for artists and non-artists seeking to learn new skills or take their art to professional levels." Students from all over the world come away learning how to make thousands of extra dollars airbrushing, and many claim that what they learn in four or five days at the workshop would take years to learn on their own. "We've worked hard to develop our exceptional faculty," Stieglitz explains. "All our instructors are at the top of their field. A special comradery and bond develops between students and staff at every Getaway."
About Airbrush Action Magazine:
Founded by Cliff Stieglitz in 1985, Airbrush Action magazine is the longest publishing airbrush magazine in world history. Distributed internationally through Barnes & Noble, Books-A-Million, 7-Eleven, all military branches, and many other mainstream outlets, Airbrush Action is edited for airbrush enthusiasts and art professionals. It covers all popular applications of airbrushing, including body art, automotive custom painting, T-shirt airbrushing, tattoo art, pin-up art, hobby/model uses, illustration, fine art, and more. For more information, Airbrushaction.com or contact Cliff Stieglitz, Airbrush Action magazine publisher, at ceo@airbrushaction.com