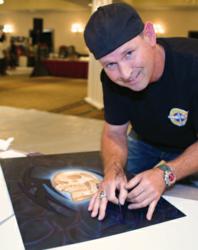 Mr. Style's exceptional talent comes through in all his work—in this case, as a wonderful instructor. His teachings will provide artists with an important foundation toward pinstriping mastery.
Allenwood, NJ (PRWEB) August 01, 2012
The ultimate hands-on art courses, Introduction to Pinstriping and Pinstriping Mastery, taught by Jeff Styles, give students from around the world the chance to learn the strokes necessary to becoming a skilled pinstriper. The one-day class provides an excellent foundation for the subsequent four-day course at the Airbrush Getaway workshops, held October 9 through 12 at the NEW Tropicana Las Vegas, 3801 Las Vegas Boulevard South in Las Vegas, NV.
Mr. Style's exceptional talent comes through in all his work—in this case, as a wonderful instructor. His teachings provide artists with an important foundation toward pinstriping mastery. Detailed information on the paints, brushes, solvents, tapes, and surface preparation necessary for proper pinstriping, as well as the practice and completion of basic designs with and without a pattern, will be covered. Students will also learn the primary styles of nostalgic dagger pinstriping, and scrolling.
In addition to Airbrush Action magazine, which regularly showcases his fine work, Jeff has been published in leading automotive magazines, including Hot Rod, Classic Trucks, Truckin', and Street Rodder. His TV work includes Overhaulin', Rides, Speed Channel's Street Tuner Challange, and a Magnaflow Exhaust commercial.
Jeff also credits his "mentor" Butch Tucker for "taking him under his wing and teaching him everything he knows about pinstriping." Like most artists, Mr. Styles has an eye for one thing in particular: flames. "The days of doodling flames on all my school books paid off," he explains. Now a Southern California resident, he operates Styles Pinstriping where he has built an impressive gallery of work.
The Airbrush Getaway workshops have attracted students from corporations as diverse as Disney, AT&T, Boeing, Texas Instruments, Hallmark and many others, as well as freelancers, small business owners and students of all skill levels.
The cost for the one-day Pinstriping is $150, and $575 for the four-day segment ($50 is discounted if you register for both) and includes all supplies and equipment. Other one-day courses include Introduction to Airbrushing, T-Shirt Lettering Bootcamp, Airbrush Tattoos, Intro to Murals on Steel, and Intro to Automotive Graphics. Four-day course include Airbrush Mastery, Ultimate Airbrush Effects, Automotive Graphics, Achieving Photorealism, Power Portraits, Automotive Murals on Steel, and others. For discounted room reservations, call 800-634-4000 and mention "Airbrush Getaway Workshop, group code SAIR10." For more information, call 800-876-2472 (international callers: 732-223-7878), or visit http://www.airbrushaction.com.
Former Student Quote:
"It's hard to get quality instruction like this. They're not going to put you down if there's something you don't know."
—Chris Doak, Intro to Automotive Graphics Student
About Airbrush Getaway:
"The Airbrush Getaway is a one-of-a-kind event—the world's best airbrush immersion program," explains Cliff Stieglitz, Airbrush Action's publisher. "It's ideal for artists and non-artists seeking to learn new skills or take their art to professional levels." Students from all over the world come away learning how to make thousands of extra dollars airbrushing, and many claim that what they learn in four or five days at the workshop would take years to learn on their own. "We've worked hard to develop our exceptional faculty," Stieglitz explains. "All our instructors are at the top of their field. A special comradery and bond develops between students and staff at every Getaway."
About Airbrush Action Magazine:
Founded by Cliff Stieglitz in 1985, Airbrush Action magazine is the longest publishing airbrush magazine in world history. Distributed internationally through Barnes & Noble, Books-A-Million, 7-Eleven, all military branches, and many other mainstream outlets, Airbrush Action is edited for airbrush enthusiasts and art professionals. It covers all popular applications of airbrushing, including body art, automotive custom painting, T-shirt airbrushing, tattoo art, pin-up art, hobby/model uses, illustration, fine art, and more. For more information, Airbrushaction.com or contact Cliff Stieglitz, Airbrush Action magazine publisher, at ceo(at)airbrushaction.com.