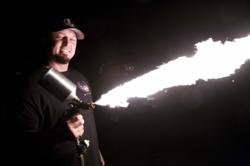 If you think I make it look easy on TV, take my class and let's see what ya got—or at least I can help you improve your skills to pay the bills!"
(PRWEB) August 09, 2012
The celebrated and creative car art king Ryan "Ryno" Templeton will teach his tricks of the trade in two special hands-on courses--Introduction to Automotive Graphics and Automotive Cheap Tricks & Special Effects--at this year's Airbrush Getaway being held at the New Tropicana Las Vegas, October 9 through 12.
Ryno, the owner of the successful Blast of Air in Anaheim, CA, has a technique and touch that continues to impress the luminaries of the automotive painting industry. He's painted for major Hollywood movies including "Biker Boyz and is best known as a featured cast member on the CMT reality show, "Trick My Truck."
Workshop attendees will learn the basics of graphics, and establish an excellent foundation in the techniques needed to excel in today's lucrative automotive graphics market.
"It's a one-stop painting class for automotive customizing," explains Templeton. "Everything from graphic layouts, airbrush tricks and textures, vinyl plotting and even pinstriping is thrown in there! If you think I make it look easy on TV, take my class and let's see what ya got—or at least I can help you improve your skills to pay the bills!"
The cost for the one-day course is $150 and $575 for the four-day course, and includes all supplies and equipment. Group and "buddy" discounts are available. One-day courses include Introduction to Airbrushing, T-Shirt Lettering Bootcamp, Airbrush Tattoos, Intro to Murals on Steel, and Intro to Automotive Graphics.
Four-day courses include Airbrush Mastery, Ultimate Airbrush Effects, Automotive Graphics, Achieving Photorealism, Power Portraits, Automotive Murals on Steel, and others. For discounted room reservations, call 800-634-4000 and mention "Airbrush Getaway Workshop, group code SAIR10." For more workshop information, you may call 800-876-2472 (international callers: 732-223-7878), or visit http://www.airbrushaction.com.
About the Airbrush Getaway:
"The Airbrush Getaway is a one-of-a-kind event—the world's best airbrush immersion program," according to Cliff Stieglitz, Airbrush Action's publisher. "It's ideal for artists and non-artists seeking to learn new skills or take their art to professional levels."
The Airbrush Getaway has attracted students from all over the world and from corporations as diverse as Disney, AT&T, Boeing, Texas Instruments, Hallmark and many others, as well as freelance artists, small business owners and students of all skill levels. Students come away learning how to make thousands of extra dollars airbrushing, and many claim that what they learn in four or five days at the workshop would take years to learn on their own.
"We've worked hard to develop our exceptional faculty," Stieglitz explains. "All our instructors are at the top of their field. A special comradery and bond develops between students and staff at every Getaway."
Former Student Quote:
"It's hard to get quality instruction like this. They're not going to put you down if there's something you don't know."
—Chris Doak, Intro to Automotive Graphics Student
About Airbrush Action Magazine:
Founded by Cliff Stieglitz in 1985, Airbrush Action magazine is the longest continuously published airbrush magazine in the world. Distributed internationally through Barnes & Noble, Books-A-Million, 7-Eleven, all military branches, and many other mainstream outlets, Airbrush Action is edited for airbrush enthusiasts and art professionals. It covers all popular applications of airbrushing, including body art, automotive custom painting, T-shirt airbrushing, tattoo art, pin-up art, hobby/model uses, illustration, fine art, and more.
For more information, please visit our website Airbrushaction.com or contact
Cliff Stieglitz, Airbrush Action magazine publisher, at ceo(at)airbrushaction(dot)com.