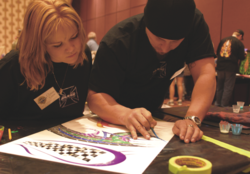 Students come away learning how to make thousands of extra dollars airbrushing, and many claim that what they learn in four or five days at the workshop would take years to learn on their own
(PRWEB) August 21, 2012
It's no secret how tough it is out there today, with so many jobs being outsourced and downsized in this troubled economy. Thankfully, the art of airbrushing continues to prove a viable career across a wide spectrum of professions including automotive custom painting, body art (spray tanning, Halloween gigs, airbrushed makeup, airbrushed tattoos, etc), T-shirt airbrushing, portraiture and more.
And that's why Airbrush Action Magazine so proud to offer courses by some of the World's best artists at the Airbrush Getaway workshop program, giving students hands-on instruction and a professional-caliber skill set in only four or five days.
The next Airbrush Getaway takes place at the New Tropicana Las Vegas in October 8-12, and offers 5 one-day classes, including Intro to Airbrushing class and 13 four-day classes, including Airbrush Mastery, Ultimate Airbrush F/X, and Achieving Photorealism (for the entire lineup go to http://airbrushaction.com/airbrush-getaway-workshops/vegas-october-8-12-2012).
The Getaway, which is celebrating its 24th year, is a "one-of-a-kind event—the world's best airbrush immersion program," according to Cliff Stieglitz, Airbrush Action's publisher. "It's ideal for artists and non-artists seeking to learn new skills or take their art to professional levels."
He goes on to say that the Airbrush Getaway has attracted students from all over the world and from corporations as diverse as Disney, AT&T, Boeing, Texas Instruments, Hallmark and many others, as well as freelance artists, small business owners and students of all skill levels
"Students come away learning how to make thousands of extra dollars airbrushing, and many claim that what they learn in four or five days at the workshop would take years to learn on their own," says Stieglitz. "We've worked hard to develop our exceptional faculty and all our instructors are at the top of their field. A special comradery and bond develops between students and staff at every Getaway."
Instructors for the introductory class include airbrush pioneers Terry Hill and Cheryl Vaughn and explores the different types of airbrushes, maintenance, air sources, safety issues, painting surfaces, preparation and the airbrush media.
"This one day course accelerates the skills of new airbrush artists and provides excellent preparation for the four day classes," explains Stieglitz.
The four-day Airbrush Mastery class is taught by industry luminaries Gary Worthington and Cheryl Vaughn and promises to be the "ultimate getaway course that will fast track students to total airbrush control, speed and mastery," according to Stieglitz.
"You'll be able to airbrush onto any surface with complete confidence and drastically increase your profits in all airbrush applications," he continues. "It is an important foundation course and is also perfect for experienced airbrush users who have developed bad habits or are in need of a serious refresher program. So If you or someone you know is frustrated by the shrinking job market, maybe it's time to look toward a new career or lucrative side gig in airbrushing."
The cost for the four-day Airbrush Mastery class is $575, and the Introduction to Airbrushing class costs $150. Other one-day courses include Introduction to Airbrushing, T-Shirt Lettering Bootcamp, Airbrush Tattoos, Intro to Murals on Steel, and Intro to Automotive Graphics. Other four-day courses include Airbrush Mastery, Automotive Graphics, Achieving Photorealism, Power Portraits, Automotive Murals on Steel, and others. For discounted room reservations, call 800-634-4000 and mention "Airbrush Getaway Workshop, group code SAIR10." For more workshop information, you may call 800-876-2472 (international callers: 732-223-7878), or visit http://www.airbrushaction.com.
Former Student Quote:
"I'm blown away! This is my passion. The Getaway classes make me realize how far I can go."
—Quincy Russell, Cenla Customs, First Time Getaway Attendee
About Airbrush Action Magazine:
Founded by Cliff Stieglitz in 1985, Airbrush Action magazine is the longest continuously published airbrush magazine in the world. Distributed internationally through Barnes & Noble, Books-A-Million, 7-Eleven, all military branches, and many other mainstream outlets, Airbrush Action is edited for airbrush enthusiasts and art professionals. It covers all popular applications of airbrushing, including body art, automotive custom painting, T-shirt airbrushing, tattoo art, pin-up art, hobby/model uses, illustration, fine art, and more.
For more information, please visit our website Airbrushaction.com or contact
Cliff Stieglitz, Airbrush Action magazine publisher, at ceo(at)airbrushaction(dot)com.