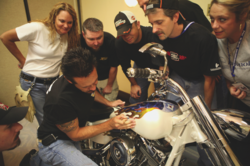 Students come away learning how to make thousands of extra dollars airbrushing, and many claim that what they learn in four or five days at the workshop would take years to learn on their own
Wall, NJ (PRWEB) August 24, 2012
There is a growing synergy between the world of tattoo artists and the ever-increasing airbrush industry. That's because as airbrush art continues to evolve and morph across a wide-array of genres and businesses, many tattoo artists are turning to airbrushing as a great way to grow their business.
To help tattoo artists master this growing profession, a special 4-day Airbrush Mastery class is being offered at the Airbrush Getaway October 9 through 12 at the New Tropicana Las Vegas. Sponsored by Airbrush Action magazine, this hands-on workshop is a foundation course created to teach total airbrush control and how to airbrush ono any surface with confidence. There is also a special one-day Intro to Airbrushing class, as well as specialty classes, including Ultimate Airbrush Techniques and F/X, Automotive Cheap Tricks and Special F/X, T-Shirt Airbrushing and Achieving Photorealism (for the entire lineup go to http://airbrushaction.com/airbrush-getaway-workshops/vegas-october-8-12-2012).
"Students come away learning how to make thousands of extra dollars airbrushing, and many claim that what they learn in four or five days at the workshop would take years to learn on their own," says Cliff Stieglitz, Airbrush Action magazine's publisher. "We've worked hard to develop our exceptional faculty and all our instructors are at the top of their field. A special comradery and bond develops between students and staff at every Getaway."
Former Student Quote:
"I'm blown away! This is my passion. The Getaway classes make me realize how far I can go."
—Quincy Russell, Cenla Customs, First Time Getaway Attendee
About Airbrush Action Magazine:
Founded by Cliff Stieglitz in 1985, Airbrush Action magazine is the longest continuously published airbrush magazine in the world. Distributed internationally through Barnes & Noble, Books-A-Million, 7-Eleven, all military branches, and many other mainstream outlets, Airbrush Action is edited for airbrush enthusiasts and art professionals. It covers all popular applications of airbrushing, including body art, automotive custom painting, T-shirt airbrushing, tattoo art, pin-up art, hobby/model uses, illustration, fine art, and more.
For more information, please visit our website airbrushaction.com or contact Cliff Stieglitz, Airbrush Action magazine publisher, at ceo(at)airbrushaction(dot)com.