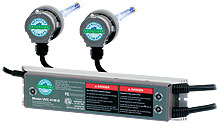 The Indoor Air Quality Can Be 1000 Times Worse Than Fresh, Outdoor Air.
Flower Mound, TX (PRWEB) March 12, 2012
There's no place—and no feeling—like a healthy home. It's where one can relax in perfect comfort, without thinking twice about breathing in pollutants like Mold, Bacteria or chemicals. Once the air conditioning repairs or furnace service is complete, the quality of the indoor air can be further improved.
So how can homeowners make their home healthy? The first step is to learn about potential issues. Once the homeowner has become more informed about indoor air quality and its impacts, they can take action to get rid of the problem.
From industry-leading air purification to high-efficiency filtration, Lennox and Triple A Air Conditioning give the homeowner a variety of innovative options for getting rid of bad air in their homes — all without producing ozone, a lung irritant that can cause shortness of breath, wheezing and coughing.
The new UV Healthy Climate® UVC Germicidal Lights will eliminate pollutants from indoor air. Germicidal lights use intense rays of ultraviolet light to control and kill contaminants like viruses, bacteria, yeast and mold. Installed inside your HVAC duct system, it improves the air in the entire home. The Healthy Climate® UV Germicidal Lights can reduce concentrations of airborne bioaerosols by 50% within as little as 45 minutes based on constant air circulation in a 3,000 sq/ft residence with a five-ton air handler. Triple A is a Premium Dealer of Lennox.
There are other step the homeowner can take to further improve their indoor air quality. Triple A Air Conditioning has a handy check list for the homeowner to consider:
1.Keep your furnace, air conditioner and humidifier well maintained
2.Use nontoxic paints, cleaning supplies and other household products whenever possible
3.Make sure your home is adequately ventilated
4.Turn on your air conditioner and/or dehumidifier during summer months, and use the "auto fan"
setting to reduce humidity and save energy
5.Keep relative humidity within a range of 30% and 60%
6. Repair leaks in your roof or plumbing within 48 hours
Triple A Air Conditioning has been in the air conditioning repair and installation business since 1969 and can provide a wide range of assistance to the homeowner to resolve those issues. Give them a call or visit their website:
Triple A Air Conditioning
3634 Long Prairie Road, Flower Mound, TX 75022
(817) 416–7567
http://www.dfwairconditioning.com/