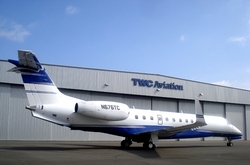 Los Angeles (PRWEB) April 22, 2009
TWC Aviation, Inc., a worldwide leader in jet charter, announced today that it has added a large-cabin 13-passenger Embraer Legacy 600 to its diverse air charter fleet. The ultra-spacious cabin offers plenty of room for 13 passengers to move around easily, and the three separate seating areas further enhance their comfort. Just as convenient, the class-leading 240 cubic feet of baggage capacity can store the luggage of a large business team, an extended family, a group of golfing friends, even a band on tour.
The large cabin is also luxurious, with sumptuous premium leather seats and spectacular burl wood cabinetry. Passengers can enjoy the dual DVD entertainment system, stay connected with the SATCOM phone, and enjoy meals from the warming and microwave ovens.
The Legacy 600 is powered by the latest-generation Rolls-Royce engines, and offers a perfect balance of performance and fuel efficiency. Nonstop range is 3,250 nautical miles with a cruise speed of 450 knots. As with all the jets in TWC Aviation's jet charter fleet, this Legacy 600 is equipped with the latest safety technologies, and maintained to FAA standards by the company's in-house experts.
About TWC Aviation, Inc.
Headquartered in Los Angeles at Van Nuys Airport, TWC Aviation, Inc. is a privately owned, independent company that provides aircraft management, aircraft sales and acquisitions, worldwide jet charter, and aircraft maintenance services. TWC Aviation is audited and certified to the International Standard for Business Aircraft Operations (IS-BAO) by the independent, nonprofit International Business Aviation Council. TWC Aviation is also independently audited and approved by Wyvern Consulting, Ltd. The company's international charter fleet includes jets from Bombardier, Cessna, Embraer, Gulfstream, and Hawker Beechcraft. Additional information is available online at http://www.twcaviation.com.
###