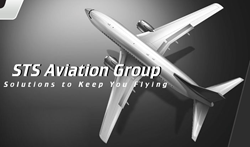 With the expansion of our product line to include Ancra International, we look forward to exploring the ways that this partnership will provide cost savings opportunities to our customers.
Jensen Beach, FL (PRWEB) October 08, 2013
STS Component Solutions, a division of STS Aviation Group, has entered into a distribution agreement with Ancra International and is now a distributor of Power Drive Units, utilized specifically on Boeing aircraft.
Ancra International PDUs are used on Boeing aircraft models B777 -200/300 and B767 -200/300/400. These Power Drive Units are small components that convert energy into mechanical motion, replacing the original equipment without requiring any modification to the aircraft during installation. The component facilitates cargo loading, featuring self-lifting and retracting units adaptable to existing lower deck cargo systems on passenger and freighter aircraft. Because Ancra's PDU's are 4.6 lbs lighter than OEM PDUs, overall costs are improved.
STS Component Solutions is a provider of aircraft parts and engine components for regional, rotorcraft, business jets, and commercial aircraft and supports numerous airlines globally. The most recent expansion for STS includes offices in Turkey and Singapore, allowing for new business development and customer support in these regions. These new locations are in addition to a London, UK location, established in November 2011, a Holland, Netherlands location, established in November 2012 and the US based headquarters. Their services also include OEM distribution, supply chain solutions, materials management, and component repair services. The addition of Ancra's PDUs to the distribution portfolio of STS Component Solutions makes the organization's services even more comprehensive and competitive in today's aerospace industry.
When asked about the recent agreement with Ancra International, Tom Covella, Group President of STS Component Solutions states, "We are very excited about this new OEM partnership and product line as it further complements our OEM portfolio and product offerings and our extensive background in aftermarket distribution. Our ability to partner with a "world class" organization such as Ancra International represents a great opportunity for STS to further provide our customers with products and Solutions to Keep You Flying. With the expansion of our product line to include Ancra International, we look forward to exploring the ways that this partnership will provide cost savings opportunities to our customers."
About STS Component Solutions
Based in Palm City, Florida, STS Component Solutions specializes in the global marketing and distribution of OEM Products and Services. STS Component Solutions specialized and technical approach to the market provides our OEM, Airline and MRO Business Partners with value-added services and solutions focused on creating cost savings opportunities. STS Component Solutions provides 27/7 global AOG coverage, and stocks inventory at strategic locations worldwide. For more information about STS Component Solutions, LLC, visit us at http://www.stscomponentsolutions.com.
About STS Aviation Group
STS Aviation Group provides a range of services and products in the aerospace industry. Services include both personnel and component services, from recruiting employees to repairing aircraft parts. They also perform aircraft maintenance services, distribute aircraft parts, and provide inventory services for major commercial and freight airline companies. STS Aviation Group has four divisions, including STS Component Solutions, STS Line Maintenance, STS Aerostaff Services, and STS Engineering Solutions. For more information about STS Aviation Group, visit us at http://www.stsaviationgroup.com.
About Ancra International
Ancra International was founded in 1969 to serve the cargo handling industry with a complete line of cargo restraint and conveyance equipment for the air, truck, rail and marine markets. Since its inception, Ancra International's Aircraft Systems Division has evolved into an international leader in the design, development and manufacture of lightweight on-board cargo handling and restraint systems and components for fixed and rotary-wing commercial and military aircraft. Supporting both wide and narrow-body aircraft needs, Ancra's products include powered and mechanical systems and components that can be found today on more than twenty different aircraft types, Ancra International's Aircraft Systems dominates the industry with 98 percent of the market.