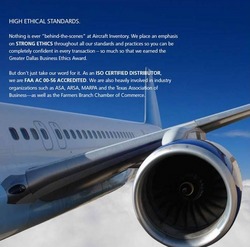 Our company is focused on providing aviation professionals with the best quality driven, technologically advanced systems to find and fulfill their inventory requirements
Dallas, TX (PRWEB) October 27, 2010
Aircraft Inventory Management & Services Ltd., (Aircraft Inventory), the leaders that introduced mobile applications to streamline their customers' experience, continue to break ground as they become the first company certified to ISO9001:2008 by the Washington D.C. based Aviation Suppliers Association Certification Board (ASACB) and have also added ASA-100 to their quality standard.
"Our company is focused on providing aviation professionals with the best quality driven, technologically advanced systems to find and fulfill their inventory requirements," remarks Brent Webb, President of Aircraft Inventory. "We listened to our global aviation customer base, when they asked for real-time inventory and real-life solutions that are backed by quality. In response, we looked for trusted innovators in this area and that is what led us to the Aviation Suppliers Association's new dual certification offering."
"During initial discussions with Aircraft Inventory Management Services Ltd., we outlined the top five benefits of the combined audit process that include, but are not limited to: improved efficiency, strengthened revenue, international recognition, factual approach to decision making, and certainly increased customer satisfaction," states Michele Dickstein, President of the Aviation Suppliers Association (ASA). "Now that the audit process is complete, we are pleased to report that the benefits have materialized and will continue to grow with their business expansion."
As the economy recovers and industries build momentum, trends indicate that companies delivering quality aviation products will grow and prosper. "This is another reason why Aircraft Inventory has long subscribed to the ISO9000 standard, our company made the decision to capture this dual certification, and we look forward to being joined by several other companies with similar quality priorities."
About The Aviation Suppliers Association
The Aviation Suppliers Association (ASA), based in Washington, D.C., is a not-for-profit association, representing more than 390 global member companies that are positively shaping the aviation industry. Collectively, they lead critical logistics programs, purchasing efforts, and distribution of aircraft parts worldwide. With approximately 150 years combined aviation leadership experience, ASA's Board of Directors and Corporate Officers focus the organization's energies on regulatory and legal matters such as safety, international compliance, and ethical business practices that impact the aviation parts supply industry. As a result of the group's certification capabilities, over 260 facilities have received global accreditation to ASA-100 since 1996. ASA also recognizes outstanding industry leadership and commitment with its annual Edward J. Glueckler Lifetime Achievement award. Member companies include: distributors, suppliers, surplus sales organizations, repair stations, manufacturers, airlines, operators, and other companies that provide services to the aviation parts supply industry. In addition, as an ANAB accredited ISO 9001:2008 registrar, ASA will provide its customers well beyond its current association membership the best third-party accreditation and assessment services possible.
ASA has been recognized by the Federal Aviation Administration (FAA) for Database Management, Industry Voluntary Accreditations and contributes to House and Senate proceedings with an aviation focus on a regular basis. On a global scale, ASA also interacts with agencies across 6 Continents including EASA, Transport Canada, CAAC, Australian CAAC, and many others. The Aviation Suppliers Association has also been featured in Aviation Week, Aviation Maintenance, Aircraft Technology Engineering & Maintenance, Overhaul & Maintenance, SpeedNews, and USA Today, along with other business journals and leading industry publications. Further, the organization was nominated as one of the 2009 Top Small Workplaces by Winning Workplaces and The Wall Street Journal. ASA is also an annual participant in the Aviation Week, MRO Americas conference and supports the Aircraft Fleet Recycling Association (AFRA) exhibits for the International Society of Transport Aircraft Trading (ISTAT) conferences.
To learn more about ASA, ASA-100 accreditation, and ISO 9001:2008 certification, as well as the annual conference scheduled for July of 2011 in Washington D.C., which has been previously sponsored by Boeing, Inventory Locator Service (ILS), Pratt & Whitney and many other key aviation companies, please visit their web site at: http://www.aviationsuppliers.org.
About Aircraft Inventory Management & Services
For more than 16 years Aircraft Inventory Management & Services (Aircraft Inventory) has focused on the needs of their global customers to balance inventory levels without interrupting their services. As a service organization dedicated to providing aftermarket expendables to more than 10,000 customers in the aviation industry, Aircraft Inventory purchases and consigns large inventories and prepares them for just-in-time availability to MRO/repair stations, airlines, and distributors. As a supply chain partner, Aircraft Inventory assists with same day shipment on 500,000+ line items of standard, specialty, and hard to find parts in stock from their 80,000 square foot facility based in Dallas, Texas.
Aircraft Inventory is an ISO certified distributor, FAA AC 00-56 accredited, a long-time licensee of the Pentagon 2000 SQL Inventory/Accounting System, and has earned the Greater Dallas Business Ethics Award. In addition, the company and their leadership have also been featured in Aviation Week, Aircraft Technology Engineering & Maintenance, Dallas Business Journal, Overhaul & Maintenance, SpeedNews, and several other leading industry publications. If you would like to find out more about how Aircraft Inventory can align your inventory with demand requirements, please visit their site at: http://www.acinv.com.
CONTACT INFORMATION:
Brent Webb, President
Aircraft Inventory Management & Services Ltd.,
V: 972.488.0580
Website: http://www.acinv.com
Kelly Isley, Partner
Corcoran Associates
Business Advisors & Public Relations
V: 480.814.7471
Website: http://www.corcoranassoc.biz
# # #