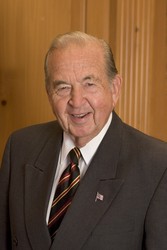 The Lyon Air Museum is designed to capture the American spirit that thrived during World War II. Each plane and each vehicle tells a story that deserves to live forever.
Santa Ana, Calif. (PRWEB) December 15, 2009
Lyon Air Museum (LAM) officially opened the doors to its new 30,000-sq.ft. facility, based at John Wayne Airport in Orange County, Calif. At a ribbon cutting ceremony, founder Maj. Gen. William Lyon, USAF (Ret) introduced a gathering of museum guests to his fleet of superbly conditioned, operational and historically significant World War II-era aircraft and vehicles.
"The Lyon Air Museum is designed to capture the American spirit that thrived during World War II," said Gen. Lyon. "Each plane and each vehicle tells a story that deserves to live forever. It is my hope that visitors – young and old alike – will embrace these stories, experience an indelible and memorable time, and leave here with a clearer understanding of an era of tremendous victory and pride."
Said Mark Foster, LAM president: "The opportunities to capture and share the experiences of World War II's aviation veterans are fading. I feel it is imperative that we do all we can to somehow 'bottle' the stories of these men and women so that someday, when the people who lived through those defining moments in time are no longer with us, future generations can benefit greatly as they learn of the remarkable collective character of the greatest generation."
Gen. Lyon, who held the position of Chief of the U.S. Air Force Reserve from 1975 to 1979, served in Europe, the Pacific Region and North Africa during World War II and later flew combat missions in Korea. Currently, Gen. Lyon is chairman of the board and CEO of William Lyon Homes, Inc., Newport Beach, Calif.
Gen. Lyon's passion for aviation history and youth education is the driving force behind the museum, for which groundbreaking took place in 2007. In establishing LAM, Gen. Lyon sought to create a world-class institution that will be available to the local community and visitors from around the world.
The LAM has on exhibit some of the world's rarest operational aircraft and vehicles. Docent-led tours take visitors for a walk through history as they stroll among machines and artifacts that helped define the 20th century. Interactive educational exhibits intended to inspire viewers provide in-depth narratives about the history of each aircraft.

The B-17 Flying Fortress "Fuddy Duddy" was used as a VIP transport in the Pacific arena at the end of World War II. It once carried U.S. Army Generals Dwight D. Eisenhower and Douglas A. MacArthur. In civilian life, the plane worked as a fire bomber and was occasionally used for motion picture filming, flying on screen in movies such as the 1962 Steve McQueen movie, "The War Lover" and the 1970 Pearl Harbor blockbuster "Tora Tora Tora."
The Douglas C-47 Dakota, recently christened "Willa Dean," has had a long and successful service life. One of the most complete and original C-47s currently in operation, "Willa Dean" now carries the colors of the 440th Troop Carrier Group's 97th Troop Carrier Squadron, complete with D-Day Invasion Stripes.
"Flagship Orange County," Lyon Air Museum's own DC-3 in American Airlines livery, dropped members of the 101st Airborne, the Screaming Eagles, over Drop Zone DELTA, to support the D-Day invasion in Normandy on the morning of June 6, 1944. The Douglas DC-3 airliner was not only comfortable and reliable, it also later made air transportation profitable. American Airlines' C.R. Smith said the DC-3 was the first airplane that could make money just by hauling passengers, without relying on government subsidies for transporting U.S. mail. As a result, by 1939 more than 90 percent of the nation's airline passengers were flying on DC-2s and DC-3s.
The North American B-25 "Guardian of Freedom," named after the controversial champion of U.S. airpower, General "Billy" Mitchell, is best known for its role in the April 18, 1942, bombing of Tokyo.
The Douglas A-26B Invader fought in more wars than any other aircraft type of its era. The LAM's Douglas A-26B Invader "Feeding Frenzy" was built at the end of World War II, spent time flying with the French in Indochina in the 1950s, and was later operated by Hughes Tool Company. It is reported that Howard Hughes himself flew this very airplane, as he did with most of the planes his companies owned. Today, "Feeding Frenzy" wears Korean War colors.
Also on display at the LAM is, among the museum's collection of military and civilian automobiles and motorcycles, an original 1939 Mercedes-Benz Model G4 Offener Touring Wagon, used by Adolph Hitler in Germany and Poland until the vehicle was seized by the French Army at the war's end.
The Lyon Air Museum (LAM) is located at 19300 Ike Jones Road, Santa Ana, CA 92707. P: 714/210-4585. F: 714/210-4588. Email: [email protected] Web: http://www.lyonairmuseum.org.
Hours of operation are 10 a.m. – 3 p.m., Monday through Friday, and 9 a.m. – 5 p.m. on Saturday. The museum is closed on Sundays. Admission rates: General admission--$8; Seniors and Veterans--$6; Ages 5-17--$4; Under age 5—Free. Groups of 10 or more--$1 off each visitor; Pre-arranged school groups—Free.
# # #