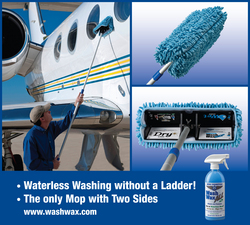 "I'm thrilled to offer our new Wash Wax Mop which is uniquely eco-friendly, convenient, safety-enhancing, cost and time saving, and really easy to use," said Brian Phillips.
San Antonio, TX (PRWEB) March 2, 2010
Aero Cosmetics and WashWax.com are pleased to announce their newest waterless aircraft wash product, the Wash Wax Mop. Designed to increase safety by eliminating the need for ladders, the patent-pending Wash Wax Mop also improves efficiency by saving time and reducing use of the acclaimed Wash Wax All cleaning product.
Invented by Brian Phillips, founder of Aero Cosmetics, the Wash Wax Mop adds to the Wash Wax waterless wash system with three discreet parts: an extendable handle or pole, a dual receptacle mop head, and two replaceable micro fiber mop pads. The mop pole comes standard with a reach of three (3) feet to six (6) feet, while long reach versions are available that extend cleaning out as far as twelve (12) feet. "I'm thrilled to offer our new Wash Wax Mop which is uniquely eco-friendly, convenient, safety-enhancing, cost and time saving, and really easy to use," said Brian Phillips.
The twin wrap around pads feature a durable and innovative design specifically created to safely clean valuable airplanes and helicopters with the Wash Wax All waterless cleaning product without scratching the aircraft. Mounted on either side of the mop head, each pad performs a specific task; one for the "wet step" and one for the "dry step." Made from specially blended chenille micro fibers, the pads are also washable ensuring excellent value and long life.
Reports from customers indicate the new Wash Wax Mop allows them to reduce the time it takes to clean their aircraft by up to 50% over waterless hand application, while also reducing the risk to aircraft and people from the use of ladders. Customers include single engine general aviation airplane owners, military, police and fire aviation agencies, helicopter operators, FBOs, corporate aircraft maintenance departments, regional and long-haul airlines.
Thanks to the highly efficient yet gentle mop pads, customers also report using 30-40% less Wash Wax All cleaning product, reducing the cost of aircraft maintenance and cleaning. Wash Wax All is a non-toxic, non-corrosive, waterless cleaning product that meets Boeing cleaning specifications D6-17487P (exterior) and D6-7127M (interior). It leaves a non-stick UV protective coating on the aircraft surface as it gently cleans.
Live demonstrations of the Wash Wax Mop and Wash Wax All aircraft cleaner system will be given at the SUN 'n FUN International Fly-In & Expo (April 13-18) and Oshkosh AirVenture Air Show (July 26-August 1).
About Aero Cosmetics
Founded in 1987 by Brian Phillips, Aero Cosmetics is an innovative San Antonio, Texas, company that specializes in leading edge waterless washing technologies and products. Inspired by the opportunity he saw in the Water Quality Act of 1987, which imposed restrictions and limitations on vehicle wash water disposal, Phillips' creative mind went to work inventing new technologies to clean the expensive and fragile surfaces of airplanes and helicopters, and non-aircraft like recreational vehicles (RVs), boats, and yachts. Aero Cosmetics products, including the patent-pending Wash Wax Mop, are available at over 200 pilot shops and FBOs worldwide. Online orders may be placed at http://www.WashWax.com or call 1-800 Wash Wax (927-4929) to order by phone.
Note to editors:
Additional photos and video are available to accredited media. Please contact us to request master video files, additional pictures or to arrange an interview.
# # #