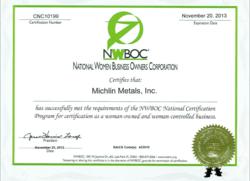 ...of almost 1000 shipments from the first quarter of 2013, Michlin Metals was on time 99.99% of the time.
Northbrook, IL (PRWEB) May 09, 2013
Michlin Metals is one of only a handful of woman-owned small businesses that distribute specialty stainless steel & aircraft quality steel to the Aerospace and Defense Industries. What makes Michlin Metals even more unique is their overall attention to detail. In today's ever changing business landscape, a company must focus on its strengths. One strength that has allowed Michlin Metals to succeed for 29 years is providing a quality product, on time, at a competitive price to ensure customer satisfaction.
ISO 9001 is an international standard that requires suppliers to focus on many different operational and quality aspects. Some of the more important ones are Traceability, Document Control (control of records) and Evidence of Conformance. A company does not need to be ISO 9001-certified to provide customers with such measures, however, a company that gains certification can then offer verifiable proof of their attention to detail and conformance with the International Standard of Quality.
Michlin Metals has serviced the aerospace industry for nearly three decades. Traceability has always been paramount as exhibited by almost all 30 years of records being retained on site. Even though the standard only requires seven years of records, Michlin goes above and beyond expectations to ensure customer satisfaction.
Michlin Metals has set forth the following quality objectives in their pursuit of ISO 9001 Certification: 100% On-Time Delivery and 100% Customer Satisfaction. After gathering data of almost 1000 shipments from the first quarter of 2013, Michlin Metals was on time 99.99% of the time. In addition to excellent delivery performance, Michlin was pleased to receive customer surveys that reported all positive feedback regarding how customers felt about doing business with Michlin Metals.
After having successfully completed their internal audit conducted by Parr Consulting, Michlin is in conformance with the standard. Michlin Metals is confident that they will achieve ISO 9001 certification in June and continue to provide the same customer service that has been offered for almost the last 30 years.
Michlin Metals is proud to be a woman-owned small business who distributes Aerospace Steel and Specialty Stainless Steel. Follow Michlin on Twitter @MichlinMetals, Facebook, LinkedIn, Google+ or on the Web at http://www.michlinmetals.com.