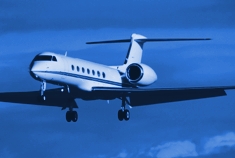 We were looking for the best way to improve...and Boeing was the clear choice.
Columbus, OH (PRWEB) May 29, 2012
AircraftLogs has added a new feature which provides more reliable estimates of flight times for corporate jets. By incorporating a Boeing database, projected flight times calculated by the AircraftLogs system are now adjusted for global wind patterns which impact air travel.
On longer trips, winds at altitude can have a major impact on a flight. A westbound flight from New York to Los Angeles may require an additional 50 - 70 minutes than the same trip in the opposite direction, depending upon the time of year. Often referred to as "Boeing Winds", the specialized Boeing database adjusts the projected flight durations using 30 years of historical wind and altitude data points.
This provides corporate aircraft schedulers with a more precise view of the arrival time of each aircraft, and allows tighter scheduling of passenger ground transportation and other travel logistics. It also increases productivity, by shortening unnecessary wait times for corporate passengers.
"We were looking for the best way to improve the precision of scheduling for our corporate flight departments, and Boeing was the clear choice. They have the best data in the industry. All of our customers now gain this benefit. " said Doug Stewart, president of AircraftLogs.
The wind-adjusted flight durations are available to any flight department using the AircraftLogs Scheduling module. The calculations are automatic and based at 85% reliability. Users can view the calculation details by clicking a small icon next to the "ETE" display on the scheduling screen.
About AircraftLogs:
AircraftLogs provides web-based aviation data management systems for corporate and private business aircraft. Based at Port Columbus International Airport, its software is available on a SaaS basis (Software-as-a-Service). Additional details are available by calling 888-359-5647 or by visiting http://www.AircraftLogs.com.
About Boeing: Boeing is the world's largest aerospace company and leading manufacturer of commercial jetliners and defense, space and security systems. A top U.S. exporter, the company supports airlines and U.S. and allied government customers in 150 countries. Boeing products and tailored services include commercial and military aircraft, satellites, weapons, electronic and defense systems, launch systems, advanced information and communication systems, and performance-based logistics and training. For more information about Boeing please visit http://www.boeing.com.