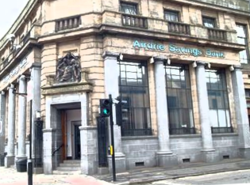 a number of established UK personal finance websites continue to lend creditability to the payday industry by promoting their products
(PRWEB UK) 30 May 2013
A small bank from the central belt of Scotland is challenging the UK's payday lenders with its own short term loan proposition.
Just days after the Citizen's Advice Service in the UK claimed that the payday loan industry was out of control; a small local Scottish bank, Airdrie Savings Bank, which boast just 9 branches in central Scotland, is set challenge the UK payday establishment.
The bank is to offer people short term ("Express Loans") for amounts from £50 to £500, which can be repaid weekly, fortnightly or monthly, for a comparatively low interest rate of just 27% (nb. Some heavily advertised UK payday lenders offer loans with annual interest rate in excess of 4200%)
The Airdrie Savings Bank will also not be charging customers arrangement or early repayment fees, but the "Express loans" will not available to everyone - individuals will need to have banked with the Airdrie Savings Bank for a year to access them.
A compareandsave.com spokesperson commented:
"This is another interesting development in the whole payday saga.
It's great for their customers that the Airdrie Savings Bank has responded to the increasing demand for short term finance with a very competitive product – It actually draws parallels with what some credit unions are also doing, but whether these small organisations can take on the might of the payday industry is doubtful.
Payday loan businesses spend a considerable amount on TV advertising and, despite the recent damning report from Citizen's Advice which showed payday businesses lending to under 18's, the mentally ill and even intoxicated customers, a number of established UK personal finance websites continue to lend creditability to the payday industry by promoting their products - which clearly needs to stop"
_______________
Notes to Editors:
compareandsave.com is one of the UK's leading personal finance comparison websites. Based in Colchester, Essex, compareandsave.com has been helping UK consumers get a better deal on credit cards, saving, loans and more for over five years.
For more information, please contact Mark Scott on 0207 195 1970