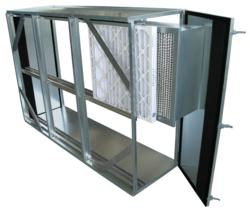 The innovative designs of the housings allow air filters to operate at maximum efficiency...
Houston, TX (PRWEB) August 07, 2012
Air Filters, Inc., a leading manufacturer of high quality commercial and industrial filters, announces a new line of commercial and industrial grade air filter housings to complement its line of air filter products. Air Filters' line of housings is designed for use in commercial air filtration equipment, including HVAC and industrial ventilation systems, blowers, compressors, engines and molecular air purification equipment.
The innovative designs of the housings allow air filters to operate at maximum efficiency, ensuring the highest level of performance for HVAC and air filtration systems, lower operating and maintenance costs, and significant energy savings. The increased equipment and energy efficiency can assist companies in meeting qualifications for LEEDS certification as well as protect sensitive equipment during operation.
The new product line includes housings for most commercial applications, including flat bank design, standard side access, HEPA crank lock design and V-bank style. They are designed to mount easily to existing units, providing a cost-effective solution when upgrading to new technology or equipment, remodeling, or servicing existing equipment. Custom units can be designed to fit into existing equipment or as a component of new equipment. The housings cover from 1 to 100,000 CFM and can be modularly designed to accommodate larger air volumes.
Complete packaged air systems with fans, chemical media beds and transitions come skid mounted and are available in galvanized or stainless steel construction with mounted pressure gauges and transmitters.
Air Filters, Inc.'s new line of filter housings continues our tradition of designing high performance, cost-effective solutions for commercial air filter applications. Air Filter's products offer reliable, efficient, energy saving performance for air filtration systems and equipment.
About Air Filters, Inc.
Air Filters, Inc. is a specialty filter company in business since 1952 with unsurpassed experience in the filtration industry. Based in Houston, Texas, Air Filters, Inc. specializes in developing innovative filtration products that provide superior filtration performance at a competitive price for HVAC, industrial ventilation and air purification systems. More information about Air Filters, Inc. can be found at http://www.airfilterusa.com.