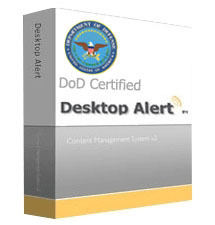 Desktop Alert is the primary Department of Defense net-centric mass notification platform used by the AFSPC. Our company has worked with the 721st Mission Support Group for over a year and we are honored by the selection for such a strategic AFSPC installation
Washington, D.C. (PRWEB) February 6, 2009
Desktop Alert, Inc., a Premier Department of Defense Net-Centric Alert and Notification Technology Company, today announced that they have been chosen as the net-centric mass notification system to be used by the 721st Mission Support Group located in Cheyenne Mountain Colorado. The contract was awarded to FCN , a full service solutions provider and a woman-owned, small business serving the Federal Government and surrounding Washington DC Metro area, through their NASA SEWP (Solution for Enterprise-wide Procurement) contract, and it includes Desktop Alert Mass Notification products.
The 721st Mission Support Group, located at Cheyenne Mountain Air Force Station, operates, maintains, secures, sustains, mobilizes, tests, and controls the worldwide warning and surveillance system for North America. Normally referred to as the Integrated Tactical Warning and Attack Assessment (ITW/AA) weapon system, it consists of airborne, land-based and space-based systems which sense and reports all activities in air and space.
The Test Control Division, directs and controls the safe test and exercise configurations of all ITW/AA Systems for their customers including the President, Secretary of Defense, NORAD, USSTRATCOM, USNORTHCOM, AFSPC, and strategic and theater commanders. The ITW/AA Mission impacts an extensive worldwide network of sensor sites, forward users and data processing sites responsible for missile warning, NUDET detection, air defense, space surveillance and space defense. Additionally, the Test Control Division controls and directs all supporting agencies necessary to provide resources and personnel required for safe and successful testing.
With Desktop Alert now installed as the primary network notification alert system the 721st group will be able to react faster than ever before with rapid access to actionable intelligence thus making America safer.
"Desktop Alert is the primary Department of Defense net-centric mass notification platform used by the AFSPC. Our company has worked with the 721st Mission Support Group for over a year and we are honored by the selection for such a strategic AFSPC installation", said David Zadick, President Desktop Alert Inc.
"Our company is honored by the selection and continued implementation of Desktop Alert across the AFSPC Command. Desktop Alert has attained an average grade of E+ in all post performance evaluations of the Desktop Alert System across AFSPC networks for the past two years. As a company we continue to build on our successes as well as lessons learned from the past. The company mantra has been and continues to be Happy Customers", added Howard Ryan, CEO and Founder Desktop Alert Inc.
About Desktop Alert, Inc.:
Desktop Alert provides highly scalable enterprise-level, network-centric and telephony alerting systems for critical mass notifications, force protection preparedness, and critical communications. Desktop Alert enables delivery of audio-visual signals that comply with the Air Force's Full Spectrum Threat Response (FSTR) requirements. Desktop Alert provides enterprise-class, network-centric alerting systems for emergency notifications, force protection readiness, anti-terror warnings and critical communications.
###