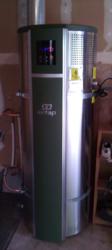 New heat pump water heating technology allows customers to save money and energy when they upgrade from a standard electric water heater.
Portland, Oregon (PRWEB) October 22, 2012
With fall and winter fast approaching homeowners should be prepared for a possible water heater failure. The average residential water heater has a lifespan of 10 years and water heaters fail most often when the weather turns cold. Cold water inlet temperatures put additional stress on older steel units causing them to fail either through failing electric resistance elements or a leaking tank caused by a build up of rust and corrosion over time.
Many households do not consider energy saving options when faced with replacing a failing electric water heater. According to the ENERGY STAR® program, upgrading to an energy efficient heat pump water heater can save households up to $300 per year on their utility bill.
AirGenerate AirTap heat pump water heaters, distributed by General Pacific (GenPac), can maximize the energy saving potential for consumer households who currently have electric water heaters. Most consumers are unaware that water heaters are a major contributor - 15-20% - to a household's total energy usage.
Water heaters are often out of sight and out of mind to as long as they continue to function properly to produce hot water. Therefore, consumers are often unprepared when a water heater fails. "Consumers faced with a leaking water heater often choose to install the first available water heater. They want to have their hot water back" states Roch Naleway, manager of the GenPac Conservation Products Division. New heat pump water heating technology allows customers to save money and energy when they upgrade from a standard electric unit. Heat pump water heaters generate hot water efficiently by transferring heat from ambient air to water that is stored in the water heater.
Consumers can choose between various heat pump water heater models if they decide to upgrade. "Most Northwest utilities like AirGenerate AirTap heat pump water heaters. They have been built to maximize electric energy savings in colder climates" says Rick Hall, President and CEO of General Pacific. When installed in a garage space the AirTap water heater operates in the efficient heat pump mode all the way down to an ambient air temperature of 20 degrees Fahrenheit. Most other heat pump water heaters need to use their backup electric elements at ambient temperatures of 40 degrees Fahrenheit and lower.
The ENERGY STAR® qualified AirGenerate hybrid heat pump water heater is gaining popularity in net zero homes and passive house (Passivhaus) construction due to their high efficiency ratings. The Airgenerate AirTap placed first in the Hot Water Contest at the US Department of Energy's Solar Decathlon further establishing its value as an energy efficient choice for homes.
This model of heat pump water heaters is fairly new on the market and is only available from a few select distributors including General Pacific located in Fairview, Oregon. AirGenerate, located in Houston, Texas, approached General Pacific proposing a distribution agreement for the heat pump water heaters in the summer of 2012. "We specialize in distributing energy efficient products. Heat pump water heaters make a lot of sense, so it did not take long for us to make this product available to contractors, retailers, and utilities we serve. Today we ship AirGenerate water heaters just about anywhere in the US", says Roch Naleway. GenPac has been offering product information, installation and sales training for heat pump water heaters to contractors, retailers, and electric utilities since October, 2011.
Utilities are promoting this product through incentive and rebate programs which can add up to $1,900 for qualifying installations of AirGenerate water heaters in the Pacific Northwest. Incentive and rebates are available through Energy Trust of Oregon, Oregon Department of Energy, Seattle City Light, Tacoma Public Utility District, Puget Sound Energy, and many others. The Smart Water Heat rebate, available to residents in Oregon, Washington, Idaho and Montana, amounts to $1,000. "The out of pocket cost for households comes to $900-$1,600 after incentives, rebates, and tax credits. It is a good option to consider if your water heater fails or you are looking to upgrade towards efficiency" says Roch Naleway.
As new technologies for water heaters emerge, the potential for increased energy efficiency in the average household rises. These new energy efficient options are now being made available through retail avenues including General Pacific's online retail site. Trends in home construction are changing to be more energy efficient as evidenced by the increasing popularity of passive solar homes, ENERGY STAR® New Homes, Passivhaus and net zero homes which are utilizing this heat pump water heater technology.
As homeowners increase their awareness of the benefits, both financial and environmental, that heat pump water heaters can bring to a home, the trend towards use of more energy efficient appliances will expand to this largely forgotten appliance.
About General Pacific, Inc.
General Pacific, is one of the leading wholesale stocking distributors in the Northwest region of the United States. Serving the Electrical Utility, Water Utility and Contractor markets since 1965 has helped General Pacific build long lasting relationships with customers by providing them with quality products and value added services.