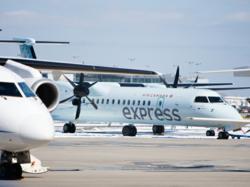 We are very excited to be granted this growth opportunity with Air Canada and we look forward to continuing to strengthen our relationship with Canada's flagship carrier
Calgary, Alberta (PRWEB) November 03, 2011
Beginning October 1st 2011, Air Georgian launched flight operations in Calgary in support of their Capacity Purchase Agreement with Air Canada. Air Georgian will operate two Beech 1900D passenger Airliners, under the banner of Air Canada Express to Cranbrook, Medicine Hat and Lethbridge, Alberta. The opening of the Calgary base represents a third base location for Air Georgian. Air Georgian also has two fully operational bases, which include aircraft maintenance services, in Toronto and Halifax.
"We are very excited to be granted this growth opportunity with Air Canada and we look forward to continuing to strengthen our relationship with Canada's flagship carrier" says Air Georgian President Eric Edmondson.
In response to significant demand from the province's oil and gas sector, Air Georgian has positioned a third B1900D Airliner that is available for on-demand corporate aircraft charters, specialized business shuttle programs and oil crew changes to Fort McMurray and points north.
"We are confident that our operational strength and experience coupled with the versatility of our aircraft will be a great compliment to the Calgary aircraft charter market. Air Georgian is looking forward to building new relationships with the key players in Calgary's corporate jet charter and shuttle market and providing supplemental lift support to those who require it." comments Ian Wilson, Manager of Business Development for Air Georgian.
Air Georgian has established offices and an aircraft maintenance facility located at 575 Palmer Road N.E., in Calgary, Alberta. All corporate charter and shuttle inquiries can be made directly to 1-877-247-5559 or at charter(at)airgeorgian(dot)ca.
About Air Georgian Limited:
Air Georgian Limited, a subsidiary of Georgian International, was formed in 1984 and operates under the brand Air Canada Express, focusing on trans-border and domestic aircraft charter operations with its fleet of 16 Beechcraft 1900D twin-engine turboprop airplanes that carry over 360,000 passengers a year from Toronto's Pearson International Airport, Montreal's Pierre Elliott Trudeau International Airport, Halifax's Robert L. Stanfield International Airport and Calgary's International Airport to 24 Canadian and U.S. destinations. Air Georgian's head office and maintenance facilities are located at Toronto's Pearson International Airport where it is ranked as the fourth largest user by traffic frequency. In addition to its scheduled passenger service Air Georgian offers aircraft charter, aircraft maintenance, aircraft management and technical training services to major airlines, corporations and individuals. For information about Air Georgian visit http://www.airgeorgian.ca.
###