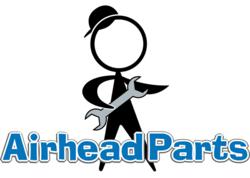 Airhead Parts First to Catalog Used Original German VW Parts
Ventura,CA (PRWEB) April 11, 2012
Airhead Parts announces the addition of over 1000 used VW parts in their latest catalog; providing VW enthusiasts and restoration shops with one stop shopping.
Airhead is taking lessons learned from their sister company; Karmann Ghia P&R (known the world over for supplying new and used VW Karmann Ghia Parts over four decades) and will include used VW parts in their new spring 2012 Catalog. This is in addition to the 5000 new parts for all rear engine VW models (air-cooled and Vanagon) currently cataloged.
Airhead's aim is to conquer the two most common problems that plague VW enthusiasts (as any hot rod or vintage car buff knows). They are 1. The age-old "hunt", lasting months (or even years) for rare parts needed to finish a project. 2. The newer problem of unacceptable, low quality restoration parts, mostly coming out of China.
Scott Dempster, CEO of Airhead Parts sees it this way: "We have reproduced parts for Classic VWs for over 18 years. Over the last five years quality and service has gone steadily down as prices go up. We had to recall several products recently as well as throw out whole shipments because of quality problems. I believe strongly that the quality of Chinese manufacturing will only get worse. But that subject is a whole other interview in itself. Used VW parts were designed and built in Germany with possibly the best quality control and materials ever seen in the automotive industry. Today, the majority of parts ordered from original German suppliers are made in China or India, not Germany!"
To offer these parts, Airhead Parts bought out several large VW junk yards and a few smaller collections over the last year; then hired more staff to handle the gigantic task of identifying, sorting, testing, cleaning, cataloging, pricing and warehousing over 3000 individual used VW parts. One thousand of these parts will appear in the Airhead Parts spring 2012 Catalog, available April 1st.
Dempster adds, "These parts have all been cleaned and inspected or disassembled, cleaned and lubed in the case of gauges, wiper motors. We cover all used parts with the same 60 day guarantee we have always had for our used Karmann Ghia parts."
After getting all 3000 parts in by the end of 2012, Airhead Parts new quest will be to keep the supply coming in. So they will be traveling the country as VW only "American Pickers". "No collection will be too small or too large, so give us a call", says Dempster. He adds, "We'll be doing this for some time to come".
About Airhead Parts
Airhead Parts, Karmann Ghia Parts & Restoration and their manufacturing and wholesale supplier Ventura Warehouse Group are all part of the KGPR corporation, founded by Scott Dempster in 1989. They are international suppliers of restoration parts for all vintage Volkswagen models including the classic Bug, Bus (Kombi), Karmann Ghia, Type 3 (Square Back, Fast Back, Notch Back).
.
Airhead Parts mission statement is simply, "The Most Parts for the Best Price with Friendly and Knowledgeable Service."
Contact:
Dave Liddell, General Manager
Dave(at)airheadparts(dot)com
http://www.Airheadparts.com
805 650 2045
Scott Dempster, CEO KGPR Inc
scottd(at)karmannghia(dot)com
http://www.airheadparts.com