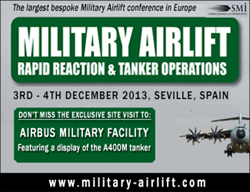 (PRWEB UK) 13 November 2013
LATEST ATTENDEES INCLUDE: Austrian MoD, Boeing, TLD Group and Lockheed Martin
Military Airlift 2013 takes place in only 3 weeks' time, don't miss the chance to secure your place today to guarantee your seat at Europe's largest bespoke Military Airlift conference.
Places are filling up fast, have the opportunity to network with the following confirmed attendees: Airbus Military, AMCC ISAF, Austrian MoD, Aviation Solutions: East Midlands Airport, BAE Systems, Regional Aircraft, Capewell Components, Cobham, EADS France, Heavy Airlift Wing, Jeppesen, LifePort, Lockheed Martin Aeronautics, Singapore Air Force, Moog, MULAG-Fahrzeugwerk, Heinz Wössner GmbH u Co KG, National Air Cargo, Nigerian Air Force, NSPA, Royal Canadian Air Force, Ruslan International, Spanish Air Force, TLD Group, UK MOD plus many more.
To book your place, please visit http://www.military-airlift.com.
EVENT HIGHLIGHTS INCLUDE:

Leading keynote addresses from: Brigadier General Miguel Angel Villarroya Vilalta, Deputy Director, European Air Group and Brigadier General Philippe Montocchio, Joint Force Air Component Commander, French Air Force
High-level speaker presentations from Spanish Air Force, Movement Coordination Centre Europe, European Air Transport Command, Royal Canadian Airforce, Italian Air Force, NATO Support Agency (NSPA), National Air Cargo plus many more.
Exclusive site visit to Airbus Military Facility, where there will be a display of the A400M Final Assembly Line. Only a few places remain so book your place today.
The chance to network with the industry's most senior military speakers and stakeholders of the airlift community, all in one room
To view the full speaker line-up, click here.
To join the event, simply register online at http://www.military-airlift.com.
For further details on our special rates and group discounts please contact the team on +44 (0)20 7827 6736.