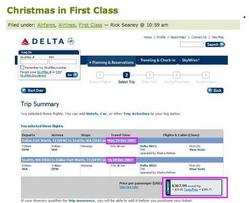 However when those good prices occur, its best to be ready to purchase your tickets
Dallas, TX (PRWEB) September 10, 2007
In spite of the recent travel cost hike, millions of air travelers are saving money on airline tickets by using the new technology on FareCompare.com. This technology rapidly processes all raw airfare data, which the company receives directly from the airlines, identifying the best possible airfare deals for the traveler. Consumers set up customized alerts and receive emails instantaneously when prices change.
CEO Rick Seaney says, "At Farecompare.com , our unique 'rocket science' level airfare deal alert technology, has a processing speed advantage, so users are automatically alerted about the cheap seats first, hours before they hit the purchasing sites -- even before they hit the airline sites themselves.
And, it doesn't take a rocket scientist to use the system. Sign up is easy. The two most popular alerts are 'Departure City Airfare Email Alert and City Pair Airfare Email Alert'. Millions of fares can and do change daily in over 77,000 city pairs in the United States and Canada and over 200,000 city pairs internationally. On any given day numerous new low prices are filed and this can trigger an alert based on your criteria.
Total dollar figure saved thus far by this new system is hard to gauge but Fare Compare reports that they have received thousands of emails from users expressing thanks and appreciation for their savings.

A Couple Saved $480: "You saved us $240 per ticket. That should cover a couple of nice dinners and a good bottle of wine -- don't you think? Thank You!!" Becky W.
A Family Saved Thousands: "I have booked many flights utilizing your site; I know it has saved me and my family literally thousands of dollars in just a short period." Rick R.
$98 Flight To Dream Destination: "My fiancé and I plan to honeymoon on the Bahamas Islands after our wedding ... thanks in large measure to tips we gleaned from your emails on when to buy tickets. After all, who can't afford a $98 ticket to a dream destination?" Les M.
Consumers save more than money. This system eliminates the need to search for cheap airfare deals online thus cutting down valuable time surfing sites. Farecompare.com technology automatically and constantly scans for airfare bargains, including International & Domestic First Class flights and immediately emails a user when a low airfare price is published. "However when those good prices occur, its best to be ready to purchase your tickets," encourages Seaney. "If you plan ahead, you will be one of the 10% of air travelers who get the best price on a particular flight."
Rick demonstrated some the site's features this summer as Good Morning America sent Rick and his laptop to New York's La Guardia International Airport to see how much Farecompare.com could have saved air travelers on their flights. As well, there are many aspects to Fare Compare's website. Wall Street Journal partnered with Farecompare.com in publishing it's popular Weekly Business Travel Index. The new highly touted Portfolio magazine featured how airline industry stock analysts use Farecompare pricing data to predict stock prices.
To test the system, simply sign up at http://www.farecompare.com/email/index.htm.
# # #