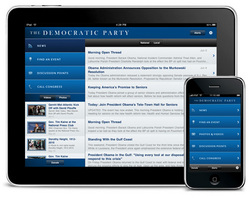 With the inclusion of AirMail in their latest apps, the Democratic Party grasps the potential of mobile devices in grassroots politics
Portland, Ore. (Vocus) June 25, 2010
Today, Urban Airship announces the public availability of AirMail, a media-rich mobile messaging solution that enables iPhone Apps to send graphically enhanced push notifications to mobile devices. AirMail is now available in the Apple App Store on leading-edge iPhone apps, including the 2010 election apps from the Democratic Party—the Organizing for America (OFA) app and the Democratic Party app. AirMail has also been integrated into the LivingSocial Deals app, a group shopping app that sends daily deal offerings to users in local markets.
"We are thrilled to launch publicly with the Democratic Party, who has always been on the forefront of engaging with voters on the mobile platform, and with LivingSocial, who immediately recognized the potential of interactive push notifications to drive business value," says Scott Kveton, CEO of Urban Airship.
AirMail transforms push notifications from lightweight messaging into more durable and interactive communications between mobile publishers and app users. Because AirMail enables rich-media mobile messaging, any app that integrates with Urban Airship's service has the ability to include video, sound and interactivity in their mobile messages. All AirMail-enabled apps, including those from the Democratic Party and LivingSocial, can create message histories to store all messages in a persistent inbox for users to reference later. What's more, AirMail messages are interactive; they can involve the user in a multi-directional process to confirm they have taken specified medication, are available to take a meeting, wish to RSVP to an event, or respond to an offer, among many uses.
AirMail and the 2010 Election
With the 2010 election season already in swing, candidates and elected officials are boosting their outreach efforts; along with social media, mobile apps are growing in popularity and emerging as must-have communications channels.
"With the inclusion of AirMail in their latest apps, the Democratic Party grasps the potential of mobile devices in grassroots politics," says Kveton. "As we saw with President Obama's successful iPhone app in 2008, engaging with constituents via the mobile devices they carry in their pockets could significantly help candidates engage voters who might not watch a lot of TV or read the papers."
These voters could be key to OFA's ambitious plan to reach out this election season and—through the Vote 2010 campaign—reconnect with the millions of people who participated in the political process for the first time in 2008. With the Organizing for America app for iPhone and iPad, users can stay up to date—and involved—no matter where they are.
The Democratic Party will use these apps to connect with mobile citizens, promote local events, and inform voters about local candidates and issues as mentioned in their blog post. The Democrats app and the OFA app include a button called Alerts, which is powered by AirMail. These alerts, similar to push notifications in that they arrive directly to the user's home screen on their iPhone or iPad, will alert users to breaking news, events in their area and ways to get involved. Unlike traditional push notifications however, AirMail messages allow recipients to take action, RSVP for an event, even view video — directly from the message itself.
Mobile Transforming Marketing
LivingSocial, the local group-shopping site behind LivingSocial Deals, is integrating AirMail to strengthen the value of the daily deals. LivingSocial deals saw the value of Urban Airship's AirMail instantly. Each day, LivingSocial offers a voucher available for 24 hours only. App users receive a push notification of the daily deal directly on their mobile device. With AirMail integrated, users can view the deal, purchase the deal and share their discovery with friends. "Because it's so interactive, AirMail makes the daily deal something that our app users can view and purchase within seconds," says Aaron Batalion, CTO & Co-Founder of LivingSocial.
Mobile apps are transforming coupons, mainly by adding social engagement as a key feature. Sophisticated mobile features such as AirMail entice people to share their purchases with friends, increasing the awareness of the local business through the power of social networking. AirMail gives users more tools to participate in bonus features. LivingSocial, for example, has a unique referral model that gives users their deal for free if they refer three friends who also participate. With the push of a button or two, this is simple and quick for users to do. "AirMail helps us maximize our social media platform, so that we can create a huge word-of-mouth buzz for a business on a particular day. As a consequence of that, each deal results in a surge of new customers, a ton of word-of-mouth and a growth of interest in our client's business," says Batalion.
Robust Data, Consistent Branding Moves to Mobile
Mobile publishers that integrate AirMail into their apps will obtain meaningful data about their users and their mobile messaging campaigns. They can get a return receipt on each AirMail message to track how many people viewed their message, how many people acted on it, how long they spent viewing it, whether they revisited the message in their inbox or if they shared it with their social contacts. This meaningful data, previously only available via email and website analytics, moves into the mobile space with AirMail.
Not only do rich HTML graphics engage users visually, but also they help mobile publishers maintain a consistent look and feel across all their communications. Corporate logos, colors, fonts and other design considerations translate to mobile with AirMail messages, so mobile publishers can maintain their brand awareness across platforms.
About Urban Airship
Urban Airship (urbanairship.com) delivers messages and content to mobile apps on smart phones and always-on devices. Its platform offers a real-time, direct-to-person experience that helps mobile publishers and businesses strengthen their engagement with app users, rapidly monetize their apps and develop ongoing revenue streams from existing content. Using its scalable infrastructure and easy-to-integrate tools, businesses and publishers can offload the expensive and time-consuming burden of building and supporting push notifications and in-app purchase functionality onto Urban Airship. The venture-backed company is based in Portland, Oregon.
# # #