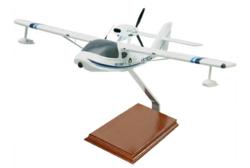 I just wanted to let you know that the Seamax model arrived safely via DHL courier yesterday, it meets and surpasses my expectations of quality and workmanship. I will truly recommend your company to any of my friends with airplane interests.
Phoenix (PRWEB) June 25, 2011
This year 2011, Warplanes aims to expand its specialization in crafting made-to-order custom model airplanes. For more than 20 years, the wood model plane-making company brings forth the glory of aviation unto the very grasp of fellow aviation aficionados. Until now, the aviation industry continues to soar in allowing man to conquer the skies. This celebratory happening has led to Warplanes' production of handmade scale model airplanes.
Custom Model Airplanes for a more personal touch
Why purchase custom model airplanes? Aside from being attractive desktop displays, these models are also military memorabilia that can delight any war junkie or war veteran. Giving wooden model aircraft as personalized gifts is a trend among senior US war veterans. Toss out the usual gift items and give an extraordinary one to truly make the receiver feel lucky as a recipient of one's favor. These handmade model airplanes may also be given as an award or trophy to commemorate or honor a special person whether military or not.
Any model whether standard scale model planes or custom model airplanes undergo the same basic crafting process. Mahogany wood is carved and sanded into pieces of the model. After assembling the base parts, putty and a base coat of paint are applied to provide a smoother canvas for the craftsmen when painting on the details. After the paint has dried, other detailed pieces are then attached to complete the model. What differs is the scaling and detailing of these models and its accessories depending on the client's specifications.
Warplanes as an industry leader
An institution in making airplane models, Warplanes is home to a wide range of wood model planes crafted superbly to the delight of collectors, aviation enthusiasts, and even World War II veterans. It produces the most popular model aircraft like the F-22 Raptor Model Airplane, P-40 Warhawk Model Airplane, P-51 Mustang Model Airplane, SR-71 Blackbird Model Airplane, and C-130 Hercules Model Airplane down to the least popular aircraft models. Selected wood model planes are also on sale everyday.
For years, Warplanes craft and sell handmade model airplanes and handmade model ships. Yes, Warplanes also offer ship models, plaque models, car models, and many more in order to cater to the wants of scale model collectors and military men. Given this merit, the company has become a licensed distributor of Boeing, Northrop Grumman, and Lockheed Martin.
Excellent Customer Service
Customers send through a detailed account of how they want their custom model plane to be. Warplanes' friendly online staff and call operators are always on stand by to note any comment, suggestion, inquiry, or order. Their new website also has an easy and improved online ordering system to allow smoother transactions. In the pipeline is the online order tracking features to help customers keep track of their orders. Warplanes not only takes pride in producing excellent handmade model airplanes but also in providing excellent customer service as well.
Warplanes is active on social networking sites such as twitter (twitter.com/_Warplanes), facebook (facebook.com/modelplanes) and tumblr (warplanemodels.tumblr.com). Visit Warplanes.com now or call 1-800-579-1207 to place your orders. The number one provider of handmade custom model airplanes will gladly answer to your needs.
About the Author
Warplanes.com creates the best handmade wood model airplanes.
Address: 4626 E Janice Way Phoenix Arizona 85032
Phone: 18005791207
Email: sales(at)warplanes(dot)com
Web: http://www.warplanes.com/
# # #