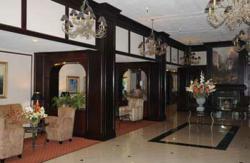 Our completed room renovations and name change provides a new look and attitude for our clientele
So. San Francisco, CA (PRWEB) October 11, 2011
CitiGarden Hotel is a San Francisco airport hotel, and business hotel that offers quality accommodations at very affordable rates. Conveniently located in South San Francisco, CitiGarden Hotel is only six minutes from the SFO airport; 20 minutes from Downtown San Francisco, home to the 2010 World Series Champions, the San Francisco Giants; 10 minutes from Candlestick Park, home to the San Francisco 49ers; and 12 minutes from The Cow Palace, home to concert events, arena football, basketball, wrestling, dog shows, holiday fairs, home shows, gun shows, car shows and more.
This year, CitiGarden Hotel has completed renovations on their rooms and also implemented a name change.
"Our completed room renovations and name change provides a new look and attitude for our clientele," said the spokesperson for CitiGarden Hotel. "We offer the best deals for affordable and comfortable accommodations in the area and also the best deals on Park and Fly rates."
CitiGarden Hotel's value accommodations include newly renovated rooms, complimentary airport shuttle service to and from SFO, continental breakfast, access to the outdoor pool, workout room, and business center as well as high speed and Wi-Fi internet service. CitiGarden offers the only outdoor courtyard in the South San Francisco area, large enough to walk around or relax in, and the best park and fly deals near the San Francisco airport.
San Francisco CitiGarden sales staff is made up of experienced professionals who will work closely with clients to ensure the overall success of any function. As a reputable business hotel, they provide excellent food and a complete conference facility for banquets, luncheons, sales meetings, conventions, cocktail parties and trade shows. For a change in ambiance, they are the only airport hotel to offer a large courtyard for outdoor functions. They can offer an executive board room for meetings and two different ballrooms for parties and conferences.
Their well-appointed rooms are clean, spacious and comfortable. Guests can relax in the Garden Courtyard or take a walk or bike ride along the Bay Trail consisting of 400 miles of paved paths, dirt trails, bike lanes, sidewalks and streets. Shoppers can head out to The Shops at Tanforan or nearby Burlingame Avenue with even more restaurants and shops. CitiGarden Hotel is also a short 10-minute walk from the golf course. At CitiGarden Hotel, there is truly something for everyone.
For more information about CitiGarden Hotel and their amenities, give them a call at (650) 273-0081 or visit them on the web at http://www.citigardenhotel.com. They are located at 245 S. Airport Blvd. So. in San Francisco.
About CitiGarden Hotel
San Francisco business hotel, CitiGarden Hotel is perfect for vacationers and business travelers needing to stay near the airport. They are only 30 minutes away from downtown San Francisco and close to dining, entertainment and shopping. The hotel is also ideal for business conferences and seminars or for private parties including rehearsal dinners, anniversaries, breakfasts, buffets, bridal showers and wedding receptions. They are also home to the Bei Jing "All You Can Eat" Buffet which offers more than 150 items with daily menu changes and great choices like seafood, Chinese, American, Japanese food.
###