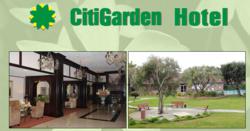 Everyone can use a break during the holidays from work and each other. CitiGarden Hotel is affordable and comfortable for families to take a break from all the holiday festivities
So. San Francisco, CA (PRWEB) December 08, 2011
The holiday is upon us. With friends and family coming over to visit and not enough space in the house, people are looking for an affordable yet comfortable alternative. San Francisco airport hotel, CitiGarden Hotel offers quality rooms at affordable prices. Starting now until the end of January 2012, CitiGarden Hotel San Francisco is offering the best online hotel deals in the San Francisco Area – perfect for Holiday Family Travels and Park and Fly Stays.
CitiGarden is the best place to house friends and family during this holiday season. When people don't really spend much time in their hotel room because they have places to go and people to meet, a quality yet affordable room is the best place to have. CitiGarden offers that and more.
San Francisco business hotel, CitiGarden Hotel offers quality rooms at economical rates. Their value accommodations include newly renovated rooms, complimentary airport shuttle service to and from SFO, continental breakfast, access to the outdoor pool, workout room, and business center. High speed and Wi-Fi internet is also available upon request. CitiGarden owns the only outdoor courtyard in the South San Francisco area, a place where guests can relax and enjoy the outdoor air.
CitiGarden offers affordable Park and Fly packages for travelers who plan on being gone for an indefinite period. Cars will be parked in secure lots, ensuring peace of mind in the traveler's absence. And it won't break the bank.
"Everyone can use a break during the holidays from work and each other. CitiGarden Hotel is affordable and comfortable for families to take a break from all the holiday festivities," says Sheila Omran of CitiGarden Hotel.
Book online now to get the lowest rates. For more information, contact CitiGarden Hotel at (650) 273-0081 or visit them online at http://www.citigardenhotel.com. CitiGarden Hotel is located at 245 South Airport Blvd. South San Francisco, CA 94080.
About CitiGarden Hotel
Conveniently located 7 minutes from the San Francisco Airport, CitiGarden Hotel San Francisco is a quality airport hotel perfect for vacationers and business travelers. They offer great park and fly deals and are only 30 minutes away from downtown San Francisco. CitiGarden Hotel is also a business hotel, with a fully equipped conference facility ideal for meetings and seminars and ballrooms for parties and conventions.
###