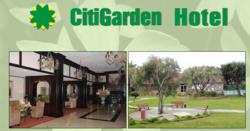 CitiGarden Hotel SFO (San Francisco International Airport) is only 7 minutes from the SFO airport; 30 minutes from downtown San Francisco
So. San Francisco, CA (PRWEB) September 20, 2012
The San Francisco 49ers are playing Sundays at Candlestick Park this September and October, and the best place to stay is the CitiGarden Hotel--located just five minutes away from the stadium. The San Francisco business hotel is currently accepting reservations for football season.
"CitiGarden Hotel SFO (San Francisco International Airport) is only 7 minutes from the SFO airport; 30 minutes from downtown San Francisco, home to the 2010 World Series Champions, the San Francisco Giants; 5 minutes from Candlestick Park, home to the San Francisco 49ers; and 15 minutes from The Cow Palace, home to concert events, arena football, basketball, wrestling, dog shows, holiday fairs, home shows, gun shows, car shows and more," Sheila Omran of CitiGarden Hotel said.
Along with Sunday football games, guests at CitiGarden Hotel can also visit The Cow Palace on Sept. 21 and Sept. 22 for the XO Ball and Expo, and AT&T Park for baseball games with the Giants.
CitiGarden Hotel is, likewise, a San Francisco business hotel where companies can make full use of its conference facility. It has an executive board room for meetings and two different ballrooms for parties and conferences.
For more information about the CitiGarden Hotel, call 650-273-0081, view the San Francisco airport hotel on the Web at http://www.citigardenhotel.com or visit 245 S. Airport Blvd. in South San Francisco.
About CitiGarden Hotel
CitiGarden Hotel is perfect for vacationers and business travelers needing to stay near the airport. The hotel is only 30 minutes away from downtown San Francisco and close to dining, entertainment and shopping. The airport hotel is also ideal for business conferences and seminars or for private parties, including rehearsal dinners, anniversaries, breakfasts, buffets, bridal showers and wedding receptions. It is also home to the Bei Jing "All You Can Eat" Buffet, which offers more than 150 items with daily menu changes and great choices like seafood, Chinese, American and Japanese food.