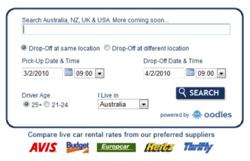 Oodles.com is now launching a new affiliates program to allow partners to earn extra revenue, increase their own web traffic and join with a true market leader.
(PRWEB) October 21, 2011
Oodles.com is now one of the largest international web-aggregators of affordable car rentals with a network stretching across four countries and three continents. Their growth has been exponential and their relationship with the major car hire organisations such as Hertz, Avis, Budget, Europcar and Thrifty continues to strengthen.
Oodles.com is a true global success story. Founded by Dennis Jeffees and Mario Salvo, both industry veterans, the web site allows users to find the cheapest car hire deals at major airports.
Oodles.com Director Dennis Jeffees said: "Research has shown that between 25-50% of people visiting hospitality, travel and destination related sites are also interested in purchasing car rentals online. The advantages of partnering with Oodles.com are obvious. We are taking our expansion very seriously and will only partner with organizations that share our goals, ambitions and commitment to excellence in customer service and experiences."
The first step to becoming accepted as a new Oodles.com affiliate is to apply via the Sign-Up Page. Once an application is received then an Oodles.com business development executive will be in touch to complete the rest of the process.
Notes to Editors
Oodles.com - Oodles is a free service that saves frequent travellers time and money when they book rental cars.
The website presents a live inventory directly from the major car rental companies' own reservation systems, making it faster and more efficient for you to compare prices and book cars. At the same time customers can use the Oodles VIP Check-in to store all their frequent flyer and car rental memberships in one place. Each time they book a car, their loyalty programs are be automatically updated. They save even more time by using the Oodles.com express pickup service, which enables frequent travellers to jump the queue, and just by using the Oodles.com VIP Cloud, they earn an additional three frequent flyer points for every dollar they spend!
The main benefits of being an Oodles.com affiliate and adding the widget to your site include:-

Affiliates can earn additional revenue from their website - 5% of the car rental booking amount.
Partner with an innovative, successful company with a proven track record of affiliate success.
Affiliate clients are guaranteed the lowest rate on the web. There's no need for affiliate clients to leave a website and spend time searching for a better deal anywhere else on the web. We're so confident affiliate clients won't find a better rate, Oodles will honor any lower rate and discount it an additional 10%.
View a sample of the booking widget in action with one of our existing affiliate partners:
Hotel.com.au
Rocky Travel
###