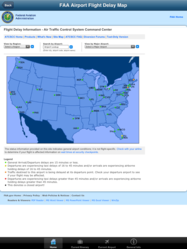 Flight delays ahead
Kansas City, MO (PRWEB) April 24, 2013
As reported in the news this week, the FAA is forecasting flight delays nationwide for the foreseeable future because of their decision to lay off air traffic controllers due to budget cuts. This decision could make flying even more frustrating than normal for the millions that fly daily.
Captain Dan Stratman, Airport Life CEO, is passionate about making flying easier and less frustrating for airline passengers. His company created an air travel app that has all the features a passenger needs to help get through these trying times. The Airport Life® app is a must-have tool for passengers facing delays. The app is the only air travel app created by an actual airline pilot, and it shows.
One feature gives passengers instant access to the FAA Airport Flight Delay Map. This map provides real-time information on the delay status for airports around the country. The itinerary feature provides automatic notifications for any changes to your flight. The "Airport Wall" social networking feature allows passengers in airports to communicate with each other and exchange helpful information about what is going on. The app even has a complete list of food, services, and shopping options for 135 airports around the world in case you get delayed and have extra time on your hands. No other air travel app on the planet has the unique combination of helpful features that are in the Airport Life® app.
"If you plan on flying (or know someone who is) during these challenging times, do yourself a favor and get the only air travel app created by an actual airline Captain," advises Captain Dan.
For interview requests or airline industry insights contact Captain Dan. #
Airport Life® is the best mobile application to help take the stress out of traveling by offering all the travel information a passenger needs in one, easy-to-access location. It is one of the fastest growing travel applications on the market.
"As an airline pilot, I'm all too aware of how confusing air travel can be for passengers," said Captain Dan. "I wanted to use my inside knowledge to create a better travel app that would make air travel smoother and more enjoyable for everyone."
The app can be downloaded at http://www.airportlifeapp.com/downloadapp. While other travel applications have limited features and functions, Airport Life® is a multi-function, easy to navigate and readily available tool for travelers on the go.
Airport Life® Features:

o Airport Terminal Maps - Navigate unfamiliar airports with terminal maps that guide you to the gate, lounge, services, stores, and restaurants. No need to hunt for an airport directory.
o Airline Rules & Policies - Find out your airline's rules and policies about everything from baggage to cancellations. Level the playing field by knowing the rules.
o Social Media Connectivity - Update your family and friends on your travel plans through the app's built-in interface with Facebook and Twitter.
o TSA Security - Access TSA security rules. Know your rights.
o Airport Wall - Share information with other passengers in the airport through Airport Life®'s social networking feature called the Airport Wall. It's a great way to share tips or timely advice.
o Email Itinerary - Send your itinerary to anyone you choose via e-mail, so they can stay up-to-date with your travel plans.
o Dining & Shopping - Locate the best restaurants and stores in your airport based on star ratings and user reviews.
o Weather Info - Weather information for your departure and arrival cities. Be prepared.
1st Class Upgrade: (ranging from $1.99 for one month to $19.99 for one year)
o Auto-Updating Itinerary – Enter flight, rental car, and hotel information, then get flight updates or changes sent to your phone when they happen. You won't be the last to know about changes, and many Airport Life users say the app often notifies them before the airline does.
o Where's My Car? - Use the "Where's My Car" feature to record pictures, voice memo, GPS location & notes on where you parked your car & rental car. Never forget where your car is parked again.
o Travel Expenses - Track your travel expenses right in the app. E-mail them to yourself after the trip for easy record keeping. Simplify expense reporting.
About Airport Life®, Inc:
Airport Life®, Inc. is based in Kansas City, Mo., and was founded by 24-year veteran airline pilot Dan Stratman. The app is available for iPhone/iPad and Android devices. The easy-to-use mobile application is designed to make air travel easier and seeks to improve common travel frustrations by offering itinerary management, dining & shopping options, weather info, social media connectivity, airline rules & policies, terminal maps, and much more. To learn more about Airport Life®, visit our Web site at http://www.airportlifeapp.com, like us on Facebook, and follow us on Twitter.