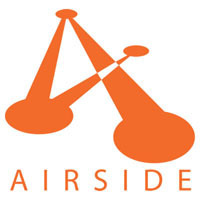 For the first time, business travellers can access premium services, precisely when they get to the airport
Arlington, VA (Vocus) September 28, 2010
Airside Mobile announced today the launch of their airport services platform and mobile boarding pass application, Airside Express. Airside Express is a free iPhone application that enables passengers to download, store and display Mobile Boarding Passes for five major US airlines at 85 airports. Airside Express makes the Mobile Boarding Pass experience easier, faster, and much more practical for busy frequent travellers.
With Airside Express, downloading and storing a Mobile Boarding Pass is made simple, requiring just three steps. The Mobile Boarding Pass is then stored directly within the app for instant, one-touch display at TSA checkpoints and airline gates. Passengers no longer need to print out their boarding passes at home, wait in line at the kiosk, or deal with mobile web sites, email links and screen shots. The application is compatible with Mobile Boarding Passes issued by Continental Airlines, United Airlines, Delta Airlines, American Airlines, and Alaska Airlines and is available for free on the Apple iTunes App Store. "The feedback from our initial member group has been great. What matters to the business traveller is speed and ease of use, and that's exactly what Airside Express provides for the check-in process," said Airside Mobile COO Adam Tsao.
Airside Mobile's airport services platform gives business travellers the ability to find and take advantage of time-saving services and valuable offers when they need them most – at the moment of travel. The platform can match the right service with the right passenger at the right time. "For the first time, business travellers can access premium services, precisely when they get to the airport," said Airside Mobile CEO Hans Miller. "A faster line, a reserved parking space, a great meal waiting for them at the gate – these are the things that make a difference between a smooth trip and a headache."
As a featured presenter at the 2010 Airport Council International-North America conference in Pittsburgh, Airside Mobile previewed premium service offerings for business travellers scheduled to launch later this year and introduced its airport services platform to over 50 major airports.
About Airside Mobile, Inc.
Based in Arlington, VA, Airside Mobile, Inc. helps air travellers save time and have a smoother, faster airport experience through its proprietary services platform and network of market-leading partners. Find out more on airsidemobile.com.
# # #