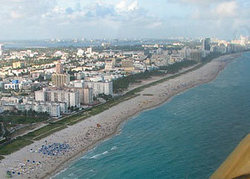 How can we get them to listen?
Tampa, FL (Vocus) June 29, 2010
The April 20th explosion on a BP oil platform continues to make front page news weeks later. The initial explosion killed eleven people and began the worst crude oil spill in US history. At first BP said the accident would probably cause no environmental impact. Over fifty days later, however, oil is still escaping at a rate of hundreds of thousands of gallons each day. The resulting oil slick is killing wildlife and washing up on the beaches, affecting businesses and rental units from Louisiana to Florida. AirSign is providing a unique solution to help deal with this impact.
Adding to the difficulty is the fact that the leak is nearly a mile underwater. Various attempts to cap it have failed, but pressure on BP to quickly get it done continues. Some claim it was avoidable. Other countries require deep-sea oil rigs to use an acoustic switch system that would stop the oil at the source if something like this happened. However, when deregulation made this optional, BP elected to save the half a million dollars by not installing the switch. The present multi-billion dollar disaster is the result.
The affects of this spill have been far reaching. Some beaches are contaminated and uninviting. Tourism and regional economy are being negatively affected in a major way. Beach front rental properties, even in areas the oil has not reached, are getting two to three cancellations a day, instead of the normal two to three rentals a day.
Owners of these properties and beaches claim that BP is deaf to their cry for help. While owners are losing the combined equivalent of millions, BP as the fourth largest company in the world is sitting on billions. "How can we get them to listen?" the property owners are asking, and with good reason. Already over 100 million gallons have spilled and no one knows what the full impact will be.
In frustration, some have turned to a unique method of getting their message to the decision makers in BP and the government - airplane banners. A banner seven feet tall and up to 120 feet long bearing a message is pulled behind an airplane. The banner usually displays an advertisement or congratulatory message, but these residents are using banners to tell BP they want action. "We have to get our message to them some way," they claim. "By flying a banner over their work sites, we are sure at least they have read it. Perhaps it will also rally support from other property owners."
"These people are frustrated," said Patrick Walsh of AirSign.com. "We have had a variety of creative ways aerial banners have been used, but this one is really unique while allowing people to get their message heard in a way they wouldn't be able to otherwise." 
By flying the banner back and forth along the beach from New Orleans to Pensacola, the residents are confident that the attention it will garner will reach the ears of BP decision makers.
For additional information on airplane banners and events that are open for getting a message out throughout the year, contact Patrick Walsh or visit http://www.airsign.com/.
About AirSign Aerial Advertising:
Established in 1996, AirSign is one of the leading companies in the aerial advertising industry, providing both custom banner printing, banner towing, and mobile billboard trucks from which to broadcast their customers' messages.
Contact:
Patrick Walsh
AirSign Aerial Advertising
888-645-3442
###