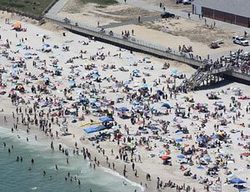 "Think of the name of your business displayed on a 70 foot banner and pulled back and forth over the beaches, sports arenas, concerts, or parks this summer!"
Long Beach, NY (Vocus) July 29, 2010
AirSign is pleased to announce that they are now the exclusive handler of aerial advertising in the Long Island area. Though the term 'aerial advertising' may not be familiar to everyone, most have seen a banner or billboard flown behind an airplane advertising a company or promoting a product or an event.
Many agree that Long Island, New York is ideal for making this type of advertising effective. With a population of eight million, Long Island, NY ranks as the 17th most populous island in the world. At just 1400 square miles, the population density of Long Island is a whopping 5,700 people per square mile, excluding tourists. This is significant when comparing this number to the US average of only seventy-six people per square mile. (Only Japan, India, and a few smaller countries have population densities greater than 1000.) Customers say, "This means that large numbers of people are sure to see any banner ad that is flown over just about any portion of the island."
Further, the summer weather is perfect for outdoors activities. The warm, humid climate draws people to sandy beaches, parks, and professional sports arenas to relax or enjoy various forms of recreation. The twenty colleges and universities on the island house thousands of outdoor-loving students who are advertising targets to many businesses. "These conditions are perfect for this type of advertising," says Patrick Walsh, President of AirSign, Inc. "Any ad we pull behind a plane, whether a banner or a billboard, is sure to be seen and read by hundreds of thousands of people."
Further, Long Island is an ideal place for businesses to flourish. In fact, Long Island is home to the East Coast's largest industrial park, the Hauppauge Industrial Park containing over 1,300 companies and employing more than 55,000 Long Islander residents.
"We are excited to be able to provide effective mass media advertising for these companies," Walsh states. "Many companies have never considered the option of advertising overhead. But the testimonials of others who have tried it tell us that banner ads are both effective and inexpensive, especially when considering the potential population outreach. And now AirSign is the exclusive provider of Long Island aerial advertising for these businesses."
The AirSign.com website states, "Matching the outdoor attractions to effective advertising for these businesses (on Long Island) makes aerial advertising a perfect marriage. Think of the name of your business displayed on a 70 feet banner and pulled back and forth over the beaches, sports arenas, concerts, or parks this summer!" AirSign' satisfied customers say, "The ad literally speaks for itself. The drone of the plane gets people's attention, and the seven-foot letters are easy to read. It is almost guaranteed that everyone outdoors will read the banner or billboard multiple times."
AirSign Aerial Advertising is an experienced company that has been dealing in aerial banner and billboard advertising in other parts of the country since 1996. Their staff is famous for its friendly and helpful assistance. "AirSign is equipped to handle everything," Walsh states. "We can design your banner as well as print, display, and store it for future use."
The presence of AirSign in the Long Island area is certainly a golden opportunity for companies who want to spread their name or product to a large number of residents and visitors in a small amount of time.
About AirSign Aerial Advertising:
AirSign (http://www.airsign.com) is a leading, full-service, nationwide aerial advertising agency that has been providing custom design, printing and flying of aerial billboards, aerial banners, and logo boards since 1996.
For more information, please contact:
Patrick Walsh
AirSign Aerial Advertising
888-645-3442
# # #