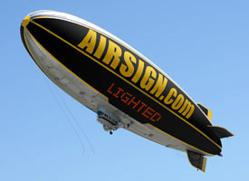 Using manned advertising blimps, our customers' messages remain fixed in the sky over a sports event, beach or special event so that no one can miss it.
Miami, FL (PRWEB) June 30, 2011
AirSign, the popular aerial advertising company out of Florida, announces the addition of blimp advertising to their already diverse set of options. AirSign is known nationwide for its banner and billboard ads, its letter banners, and its skywriting. All have been used to successfully announce special offers, promote companies and products, and even to congratulate graduates or offer a proposal of marriage! Last fall, AirSign was on national television announcing an Extreme Makeover Home Edition selection.
"We are excited about the advantages that advertising blimps offer our customers," says Patrick Walsh, founder and CEO of AirSign. "The message remains fixed in the sky over a sports event, beach or special event so that no one can miss it."
The blimps AirSign uses are not one of the tethered eight or ten foot balloons so popular in advertising at malls or service stations. These are huge manned blimps, 128 feet to 200 feet long, containing between 68,000 and 247,000 cubic feet of helium. Each blimp uses full vinyl wraps to customize it with a company name or product.
For those picturing the 1937 Hindenburg disaster with their name burning up on the evening news, Walsh promises no such disaster can happen with AirSign blimps. Instead of explosive hydrogen gas used in the Hindenburg, these blimps are filled with helium, an inert gas that does not readily react with any other compounds or elements. Simply put, the AirSign advertising blimps are very safe and very effective.
An added feature of the AirSign blimps is their ability to be illuminated internally for night advertising. As long as the blimp is in the sky, it is displaying the message of the client company, even while traveling from one event to another.
Walsh says that the blimps are available for rent up to 120 hours per month of flight time. This provides extensive exposure of a product, service or special event in a unique and memorable way. "We even offer an optional high definition camera system for broadcasting views from above," says Walsh.
Aerial advertising puts new meaning to the saying, "The sky's the limit." With the use of airplanes, helicopters, and now blimps, the sky becomes a giant billboard to promote a product or service. "But the possibilities are really limitless," says Walsh, "or should I say, limited only to the imagination."
Though blimps have been famous ever since Goodyear took to the skies, the availability of blimps for other companies to use in advertising has, in the past, been minimal. AirSign is a pioneer in this field that promises to quickly grow in popularity.
About AirSign Aerial Advertising:
AirSign (http://www.airsign.com) is a leading, full-service, nationwide aerial advertising agency that has been providing custom design, printing and flying of aerial billboards, aerial banners, and logo boards since 1996. Skywriting services were added in 1997 to the delight of the many satisfied customers who hired AirSign to promote them.
For more information, please contact:
Patrick Walsh
AirSign Aerial Advertising
888-645-3442
###