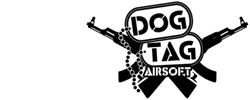 We want to stop SB 798 before it blossoms into something more large scale and more life threatening to our community. It creates too much confusion for any law enforcement agency
Sunnyvale, CA (PRWEB) September 14, 2011
Dog Tag Airsoft Inc., located in the Bay Area, is offering airsoft pistol and rifle enthusiasts some tips for playing the sport in a safe way. These tips are in response to SB 798, a bill introduced by Senator Kevin De Leon (D-Los Angeles). The new law would call for further education for individuals on the rules and federal law regulations of airsoft.
"By following these rules and regulations, it will help give our sport a better reputation and a better understanding of what the sport is," said Alex Le, General Manager of Dog Tag Airsoft.
Some people have very little understanding of airsoft and how it is played. Players should always be fully aware of the sport and the risks involved. Dog Tag Airsoft wanted to share some safety tips to be sure that everyone knows about the sport and understands the difference between non-lethal and real firearms.
First of all, Airsoft players should transport equipment and gear guns in a bag or case, especially when bringing these to a repair shop. Also, they should always put orange tips on guns while transporting. When the gun is not in use, always point its muzzle downward and make sure that there is no magazine left in it during storage.
It is important to know that retailers are required to sell their airsoft guns with bright orange tips and only customers 18 years of age and older are able to purchase the items. If ever confronted by law enforcement officers, it is very important to immediately drop the gun.
Airsoft is not an easy game nor is it for everyone. Therefore, players of the sport should be mindful of the rules and the proper usage of the equipment since they can cause physical harm. Dog Tags Airsoft believes it is better to observe the law because it is better to be safe than sorry. Furthermore, they want to have an educated public as to airsoft so that the legislation proposed is not needed.
"We want to stop SB 798 before it blossoms into something more large scale and more life threatening to our community. It creates too much confusion for any law enforcement agency," said Mr. Le.
For more information, call (408) 400-9888 or visit http://www.dogtagairsoft.com.
About Dog Tag Airsoft Inc.
Dog Tag Airsoft, located in Sunnyvale, carries a wide selection of Airsoft Rifles, Airsoft Pistols, Electric Airsoft Guns and Tactical Gear. Their collection is available online or in-store and many of their items have not been available in the United States previously.
###