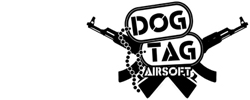 Airsoft enthusiasts of all levels are welcome, from the curious beginner to the hardened veteran
Sunnyvale, CA (PRWEB) November 12, 2011
The Bay Area's Airsoft Rifles company, Dog Tag Airsoft is participating in this year's Second Harvest Food Bank's can food drive, and is offering a discount for any purchases in the store for contributing. Customers can receive five percent off their entire purchase in the store for every five cans donated to the cause and 10 percent off of their entire purchase for every 10 cans donated.
The food drive is going on now through Saturday, November 19. The donations will be a welcome sight for families throughout San Jose who are in need during this holiday season.
In addition to the discount on purchases, for every five cans donated to Dogtag Airsoft, a raffle ticket will be issued. The winners will be drawn on the final day of the food drive, November 19, and will win AEGs, GBB Pistols, Accessories, and other fine products.
Dog Tag Airsoft Inc., a Bay Area airsoft pistols company provides exceptional services and products to the Bay Area Airsoft Community. They carry everything an airsoft enthusiast needs to keep their replica firearms in peak firing condition. In addition to their more affordable replica firearms, they offer a wide range of exclusive models. They also offer accessories from tactical pouches and slings to protective gear and uniforms.
"Airsoft enthusiasts of all levels are welcome, from the curious beginner to the hardened veteran. Whether you shop online, or come inside, you'll always enjoy an unrivaled selection of Airsoft Rifles and Pistols, affordable prices, and top-notch service," says Alex Le of Dog Tag Airsoft.
For more information on Dog Tag Airsoft Inc., call (408) 469-4478 or visit http://www.dogtagairsoft.com. Dog Tag Airsoft is located at 1285 Hammerwood Avenue Sunnyvale, CA 94089.
About Dog Tag Airsoft Inc.
Dog Tag Airsoft, located in the Bay Area, carries a wide selection of airsoft rifles, airsoft pistols, electric airsoft guns and tactical gear. Their collection is available online and in-store, some of which were previously unavailable in the U.S.
###