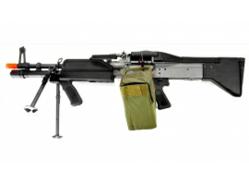 (PRWEB) June 15, 2011
Toykin.com, California based online retail shop is proud to announce the availability of high end quality electric airsoft guns.
Airsoft guns can be found everywhere, from a local mega toy store to the flea market. The prices for those guns range considerably depending on where to buy them. Saving money and finding the most affordable solution for shooting needs is important. However, shopping for cheap airsoft guns might not be the best way to go about finding the quality guns needed for accuracy, durability and enjoyment.
It's really best to shop for quality airsoft guns first, and then focus on price after finding a reliable supplier. In this, online suppliers have a distinct edge over real-world stores. For instance, Toykin.com provides the lowest prices possible on the top-quality airsoft guns on the market. The company is able to do this because they lack the same overhead as a traditional retail store, ensuring that they can offer their customers cheap airsoft guns without sacrificing quality or performance.
Available Styles
Most airsoft guns are modeled after real guns – sniper rifles, pistols and machine guns like the AK-47, the M16 and other popular models. Many high end quality airsoft rifles come with included scopes for better accuracy, while airsoft pistols offer immense portability and ease of use.
Electric Airsoft Guns vs. Spring Airsoft Guns
After choosing a retailer, one will need to determine the type of airsoft guns he needs. There are two primary propulsion types on the market – electric airsoft guns and spring airsoft guns. Each differs from the other significantly. In order to make the right purchase, one will need to know a bit more about both options.
Affordable Spring Airsoft Guns: Spring airsoft guns are the oldest style on the market, but also have the least amount of maintenance required. These guns are reliable, sturdy and immensely durable. Once the clip or chamber is filled with airsoft pellets, a shooter simply needs to cock the gun and fire. A spring in the firing chamber is compressed and then released when the trigger is pulled. The releasing spring propels the pellet down the barrel and out of the gun. However, most spring-powered guns are limited to firing 1 pellet at a time.
Electric Airsoft Guns: Electric airsoft guns differ significantly from their spring-powered brethren. These rely on a high-torque electric motor for their firing action. As such, they can offer rapid-fire performance, which can be highly desirable depending on style of play or type of shooting practice. Cheap electric airsoft guns from Toykin.com provide plenty of power and performance, as well as the ability to take on any foe that you might face on the field of battle. An AEG can usually fire up to 1,000 BBs per minute, with some capable of reaching velocities of 500 feet per second. However, they are somewhat higher in maintenance than spring-powered guns simply because they require batteries in order to operate.
To find out more about electric airsoft rifles, spring airsoft rifles and pistols, visit the company at http://www.Toykin.com.
About Toykin.com.com: Toykin.com.com is on of the largest online retail shops in the US. The company focuses on providing the best quality airsoft rifles for the cheapest price in the market, ensuring that everyone can find airsoft guns for his need at affordable prices. Toykin.com offers same day order processing for all orders that arrive prior to 2 PM PST, which ensures that customers can get their airsoft guns in the shortest time possible. Toykin.com also offers 1,000 free BBs on every purchase over $50 and a free airsoft pistol on every purchase over $75.
###