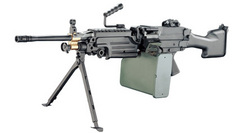 Pacoima, CA (PRWEB) March 7, 2011
Toykin recently introduced a new selection of high-end airsoft guns. These airsoft guns appeal to the airgun enthusiast who wants peak performance and a large capacity magazine. Toykin's hand selected collection of high-end Airsoft Guns are mostly made from full metal with a full metal gear box, designed to not only be long lasting but to deliver the high power results airgun enthusiasts appreciate. This will be the airgun to reach for time and time again to test shooting skills knowing it will handle the job.
"Adding a new series of high-end airsoft guns to our inventory has brought a huge interest from our customers since day one. Many serious airsoft gun enthusiasts have purchsased one of our high-end airsoft guns and are have expressed their satisfaction. Our high end airsoft guns have a very realistic look and feel and an even better performance," says James Grant, Sales Manager.
Toykin's 525 fps M249-mkii Metal Gear Box Electric Airsoft Gun is manufactured by A&K. With a wide range of over 250 feet and electric power, it possesses high performance and great durability. This gun is made of metal and is both full and semi automatic. It has a large magazine capacity of 2500 BBs.
For sniper rifle fans Toykin offers a very popular bolt-action airsoft sniper rifle JG366A which comes complete with scope and bi-pod and has a huge shooting power of 425 fps muzzle velocity with .20g BB. This airsoft sniper rifle is made to deliver power, accuracy and long-lasting joy.
Aside from the great item selection, Toykin also offers a fast shipping and a great customer service. All orders received before 2pm (PST) are being processed and dispatched the very same day so customers can expect their items to arrive quickly. In addition, orders exceeding specific amounts are eligible for free gifts such as bag of BBs or even a free pistol.
Visit http://www.toykin.com to find the best selection of airsoft guns and airsoft rifles for your favorite hobby.
###