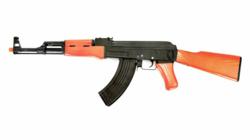 Most Popular Airsoft Rifle
(PRWEB) September 15, 2011
Toykin recently announced the release of their expanded line of Airsoft guns, available on their website, http://www.Toykin.com. Toykin is an online retailer specializing in Airsoft guns, Airsoft rifles, Sniper Airsoft rifles, Airsoft pistols, Airsoft shotguns and a comprehensive line of remote control (RC) toys.
So many consumers are familiar with the classic Christmas movie, "A Christmas Story", where the young boy Ralphie dreams of receiving a Red Rider BB Gun from Santa. Young men (girls too!) of all ages seem to love playing with a BB gun; whether shooting at cans in their backyard for practice, or shooting at targets to improve accuracy at various ranges, there is just something alluring about playing with toy guns, that are exact replicas of the real thing.
How can you tell the real guns apart from the replica toy guns? The little orange cap placed on the end for safety is generally the only give away.
To satisfy the many requests expected by "Santa" this year, by men and women of all ages, Toykin has expanded their Airsoft gun line. Each gun, inspired by the look and feel of actual working gun models, each Airsoft gun delivers on speed, accuracy and penetration, three critical components any gun lover seeks.
Some of the more popular Airsoft gun models carried by Toykin include:
Airsoft Pistols- 324 Fps Spring P362 Metal and Wood, 200 Fps Auto Electric Micro Uzi Smg, 232 Fps Spring fill Metal Mauser C96
Airsoft Rifles- 470 Fps Electric Ak 47 Airsoft Assault Rifle, 450 Fps Electric Aks 74 Real Wood and Metal Airsoft Rifle, 400 Fps Electric Jp Mp5 Navy Tactical Airsoft Rifle
Airsoft Shotguns-330 Fps Smith & Wesson M3000 Sawed Off Airsoft Shotgun, 330 Fps Utg Law Enforcement Airsoft Shotgun
Whether you, or someone you love, has a fascination with Airosft guns, Toykin can provide direction and guidance to help you find that perfect holiday gift! And, for the remote control hobbyist, shoppers will be able to find a comprehensive selection of RC cars, helicopters, tanks, airplanes, trucks, robots and even dinosaurs, suitable for gift recipients of all ages.
To learn more about the newly expanded Airsoft gun line, visit http://www.Toykin.com.
About Toykin
Toykin is an online retailer specializes in Airsoft guns, rifles, pistols, shotguns and a comprehensive selection of remote control toys, sure to satisfy the needs of any hobbyist, regardless of age or skill set.
###