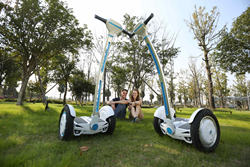 Electric Scooter S3, a groundbreaking self-balancing scooter newly-launched by Airwheel
US (PRWEB) October 17, 2014
At the Airwheel product launch on 22nd Sept, the latest S3 caught everyone's attention. Official news discloses that its configuration has defeated those of the high-end self-balancing electric scooters on market.
The electric scooter S3 differs from its fellow competitors in the premium quality, remote key control and Bluetooth music player. S3 features top magnesium alloy used to build Airbus A380, which is solid and durable, as well as super light to realize portability and low power consumption. The magnetic levitation motor that powers S3 delivers maximum output power 1000W and features an anti-overvoltage/overcurrent/overheat element, and it can work consistently for 100,000 hours. Moreover, S3 is mounted with a magnified 4in LED display panel to clearly showcase real-time traveling data.
A traditional self-balancing one wheel scooter usually shifts into "sleep mode" instead of being completely cut off when it is turned off. As for S3, it'll shut down the battery discharge mechanism to the control chip once turned off by the remote key, which extends the standby time up to 3 months. Airwheel R&D team has innovatively applied dual control chips and dual battery protection boards on S3, which allocates balanced battery power on 2 hub motors to avoid an overload problem. In addition, S3 makes a difference by its Bluetooth music player which connects your smart phone to play songs on its dual bass speakers.
"S3 is the absolute pride and masterpiece of our team. It is an ideal alternative for people looking for a low-key and sportive unicycle designed for everyday use. We managed to perfectly integrate a number of exciting features in its concise design," said an official from Airwheel in a recent press brief.
Undoubtedly, the debut of Airwheel S3 has fueled the rising industry of electric self-balancing scooters as well as smashed up some of the long time monopolies of the industry. It is designed for everyone's everyday use instead of a playful toy of the rich. In addition, Airwheel S3 is CE certified with standard specs, so consumers can drive along without worrying about safety. Airwheel S3 is more than an eco-friendly commute aid, but rather an intelligent life style.
About Airwheel
Airwheel Technology is a leading enterprise focusing mainly on the R&D and manufacturing of eco-friendly personal transporters. Based on its worldwide success of X-series and Q-series, Airwheel now rolls out the S3 with a more innovative design and amazing price-performance ratio.
More info about Airwheel Technology is available on http://www.airwheel.net.