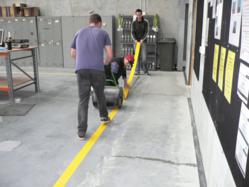 "We are thrilled to have our Superior Mark floor marking tape in use in New Zealand," said Managing Director Cliff Lowe.
Wake Forest, NC (PRWEB) October 11, 2012
Stop-painting.com is excited to announce a New Zealand order for Superior Mark aisle marking tape for industrial facilities in Christchurch. Around the globe, companies are impressed with the versatility and durability of the Superior Mark aisle marking tape.
Stop-painting.com made a name for itself with its flagship product Superior Mark Floor Marking Tape. This 32-millimeter tape with beveled edges has improved workplace safety in a number of different industries. The tape retains its tack even after being run over by a loaded forklift, so forklift operators are pointed in the right direction and accidents are limited.
Stop-painting.com has discovered a number of different ways to build upon this product and improve workplace safety in the process. For example, Stop-painting.com recently announced a clear version of the Superior Mark Floor Tape. The transparent tape enables companies to tape barcodes and other important information on the ground for maximum visibility and improved safety.
Another new addition to the Superior Mark line is its Velcro-backed carpet tape. The aisle marking tape helps companies, schools, and care facilities control the flow of traffic without compromising safety. The beveled edges are designed to keep people from tripping over the tape, and the non-adhesive backing means no adhesive residue will remain on the carpet when removed.
Safety is always the top priority for Stop-painting.com and it's evident throughout the entire line of Superior Mark Floor Tape. Durability and versatility are two important traits of every Stop-painting.com product.
Industry leaders from Dubai to the Northern Emirates to New Zealand have recognized the value and innovation of Stop-painting.com products. All three locations have placed orders for products in the Superior Mark product line and this has allowed Stop-painting to expand the international exporting side of their business.
Stop-painting.com is the ecommerce website of InSite Solutions, LLC, a well-respected leader in the traffic control and industrial safety industry. InSite Solutions' comprehensive selection of innovative products is designed to enhance traffic control and improve safety in the workplace.
InSite Solutions, LLC is a member of the Better Business Bureau, the Material Handling Industry Association, and the Wake Forest Chamber of Commerce.
Visit http://stop-painting.com/sectionin-40-201i.html to learn more about the Superior Mark aisle marking tape.
Or to learn more about the innovative industrial safety products offered by Stop-painting.com go to http://stop-painting.com/.