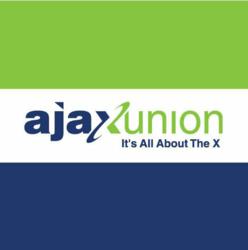 So, through the B2B marketing strategies seminar, we would like to teach effective practices to guide more business owners toward developing profitable marketing strategies
New York, NY (PRWEB) April 13, 2013
Leading internet marketing agency Ajax Union is extending the early bird special on tickets to May's Innovative B2B Marketing Strategies seminar and workshop. The event will be held from 6 p.m. until 9 p.m. on May 7, 2013, at the New Yorker Hotel. Offering a comprehensive overview of the latest internet marketing strategies B2B businesses can utilize, the seminar will feature presentations by Ajax Union's CEO Joe Apfelbaum and President Zevi Friedman. Early registrants will receive a discounted rate when purchasing tickets with the promotion code "30EARLY507" until April 21, 2013. Companies interested in attending can purchase tickets online at http://ajaxb2bmarketing.eventbrite.com.
"We have reached a point in small business internet marketing where many businesses believe that marketing ROI will be their top effectiveness measurement. What this means for businesses is that becoming internet-savvy is no longer a luxury, it is an absolute necessity. Your business is surrounded by companies that have already taken the internet by storm. They are on Facebook, Twitter, Pinterest, and Youtube. They have and utilize email marketing strategies and new SMS messaging techniques. They are doing everything in their power to make sure that their business is easily found on any platform. So, through the B2B marketing strategies seminar, we would like to teach effective practices to guide more business owners toward developing profitable marketing strategies," said Ajax Union Co-Founder Joe Apfelbaum.
Ajax Union's Innovative B2B Marketing Strategies seminar and workshop will begin with an opportunity for attendees to network with one another. Following the registration and networking period, Ajax Union President Zevi Friedman and CEO Joe Apfelbaum will lead two 45-minute presentations on topics that range from how to use Google Analytics for keyword tracking to the role of mobile marketing as a progressing marketing strategy. The two presenters will highlight the simple ways that businesses can expand and generate revenue each quarter with the implementation of these strategies.
There will be a 15-minute intermission between presentations and an additional open networking opportunity afterwards. The seminar will be held at the New Yorker Hotel, located at 481 Eighth Avenue, New York, NY 10001. Be sure to follow Ajax Union on Facebook and Twitter to stay up to date on upcoming networking events, seminars, and webinars hosted by the company. Complimentary press passes will be offered. For more information on the event, email info(at)ajaxunion(dot)com.