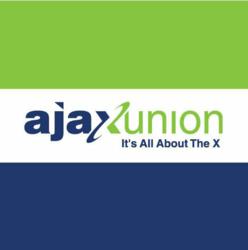 Ajax Union wants to teach companies how to ensure that they are making their business visible to the fullest potential online.
New York, NY (PRWEB) April 02, 2013
Ajax Union, a leading local internet marketing company, is hosting a seminar and networking event on May 7, 2013, that will cover a variety of marketing topics for B2B companies to optimize business potential. With at least half of B2B buyers turning to social media and peer reviews for guidance on who to do business with, any business that lacks a comprehensive and effective online marketing strategy is losing out on potential company growth. Early registration tickets to the event are available online at http://ajaxb2bmarketing.eventbrite.com at a discounted rate using the promotion code "30EARLY507" to businesses interested in attending.
"We are operating in a world where 78% of B2B buyers are starting their research with a search engine like Google or Bing. The companies that are succeeding are the ones with an internet marketing strategy that lands them at the top of these search engine results, either organically or through paid advertising. On the other hand, the companies that are falling by the wayside and losing business to their more internet-savvy competitors are those that refuse to expand their marketing techniques and adapt to today's current marketplace through tools like SEO analysis and multichannel marketing. Ajax Union wants to teach companies how to ensure that they are making their business visible to the fullest potential online," said Ajax Union's President and Co-Founder Zevi Friedman.
Ajax Union's "Innovative B2B Marketing Strategies" seminar will review a host of business techniques. Topics for discussion include marketing tactics and effectiveness, content marketing, social media and multichannel marketing, eCommerce and web analytics, email marketing, and online advertising. The goal of the seminar is to give business owners who are looking to get ahead a crash course in strategizing, data acquisition techniques, reading analytics, and campaign planning. Small business internet marketing always involves a careful blend of strategies that are customized to be the most effective.
The seminar will include a half hour of open networking and registration, during which wine and cheese will be offered, followed by a two 45-minute presentations. After the second presentation, there will be open networking with fellow attendees and Ajax Union's staff. The seminar will be held at The New Yorker Hotel, located at 481 Eighth Avenue, New York, NY 10001. Be sure to follow Ajax Union on Facebook and Twitter to stay up-to-date on upcoming events and webinars. Complimentary press passes will be offered to the seminar event. For more information email info(at)ajaxunion(dot)com.