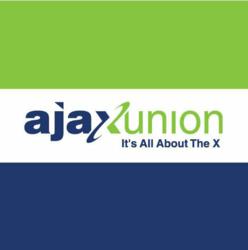 With only one week to accomplish our goal, we assembled a team of seven of our marketing ninjas to to brainstorm, create a plan, and divide the duties by our strengths
New York, NY (PRWEB) May 18, 2013
Internet Marketing Agency Ajax Union, found online at http://www.ajaxunion.com, will release a case study about its event marketing tactics carried out for office technology and IT solutions company Atlantic, Tomorrow's Office's Spring Trade Expo. Every year, it holds an exclusive expo for CEOs to present all their latest technologies and host a plethora of informational seminars regarding changing trends in the informational technology realm as well as other topics relevant to the industry. This year, the expo only had 800 registrants and enlisted the help of Ajax Union to increase that number to 1000. The marketing agency was able to succeed with only one week before the expo.
"At Ajax Union, we love a good challenge. With only one week to accomplish our goal, we assembled a team of seven of our marketing ninjas to brainstorm, create a plan, and divide the duties by our strengths. We used word of mouth, social media, and pay-per-click (PPC) to garner these results and we're excited to share our case study and help other companies experience similar successes," said Joe Apfelbaum, CEO of Ajax Union.
The case study will break down all of the strategies and actions carried out by Ajax Union, including public relations tactics such as optimized press releases that were strategically distributed as well as blog posts written by the Ajax Union content team that were posted on Atlantic, Tomorrow's Office website. Ajax Union also harnessed the power of social media by putting forth marketing efforts on Facebook, LinkedIn, and Twitter. The company utilized PPC, event list postings, and word of mouth marketing through personal outreach. In addition to tactics, the case study will also analyze the project and how internal communication helped with its success.
While in this case Ajax took on a time sensitive project, the internet marketing company also offers a number of other services as well as applications designed to help business owners and entrepreneurs along their path to success, including month-to-month marketing plans and complimentary resources such as its SEO analysis application RankZen and its onsite tool KiwiSEO.
For more information on Ajax Union and their marketing services, visit its website or call 800-594-0444. Ajax Union can also be found on social media sites, such as Twitter and Facebook and maintains an onsite marketing blog.