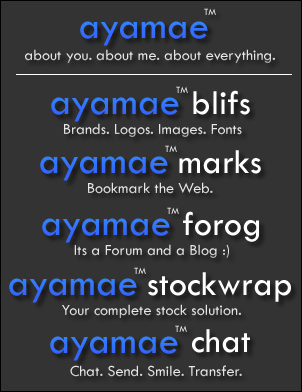 It's one step closer to our eventual full scale beta testing period
(PRWEB) August 11, 2006
Established in 2006, the Ayamae™ Group is an exciting new start up in the Australian Software environment, and one that will leverage its core products internationally once it launches out of private development later in the year.
"Ayamae is all about the user. Our aim is to create simple, clean, user-friendly and reliable products that give people exactly want they want. This is our goal, and this what we are trying to achieve." explained Mr. Timothy Davis, President and CEO of the Ayamae™ Group in a recently conducted press interview.
"After all, software development is all about people. I think sometimes a lot of Internet development companies forget that - its about making peoples lives easier, its about making software that's not only more receptive but can do exactly what the user requires, when they require it. So our company name 'ayamae' is trying to encompass all that. It's trying to make products that really do make sense and help a user's internet experience become richer and more interactive really quickly and really easily. In school we were taught that the fastest way to move between two points is via a straight line, and this is the philosophy that we are adopting when we're developing our products." continued Tim.
"We do not seek to replace the millions of sites that are already out there, or even the ones that countless Internet users have come to enjoy. This is not our aim and nor will it ever be. We simply want to create a few really great products and hope that the Internet population decides to use them along with the other ones they have come to worship."
Interestingly, Tim's approach to start up development is different to many companies who seek to release their products as fast as possible. "I love quotes, and a good quote that Henry Ford once said that really drives my passion for development and indeed the rest of the team's is that "A market is never saturated with a good product, but can very quickly become saturated with a bad one." So the aim of Ayamae is to ensure that although our products are designed by engineers, they're made for the end-user - because that's who will be using them. So in saying this, we don't intend on releasing our products until they are fully tested and error free. Although the team can't stand the word beta, we have decided we won't move our products out of from this phase until they deserve to be".
While the majority of products being developed by the Ayamae™ Group remain strictly behind closed doors, the release of the company's website is a step towards their long term goal.
"It's one step closer to our eventual full scale beta testing period" explained Tim. "We have a really great team that works well together. We find it easy to collaborate and nut out ideas collectively. I strongly believe that a great business is driven off the passion of those creating it. Combine this with a lot of hard work, long hours, a bit of stress and you are bound to see the light at the end of the tunnel. We have all these characteristics going for us, and this is why we are going to be successful." (interested in Investing in Ayamae™?).
The company's dynamic product range is creating quite a buzz on internet tech blogs at the moment, questioning what the products will feature and who is behind the development. With the website revealing no more information than a few high level screenshots and a bunch of ambiguous product titles including "Ayamae Blifs - Brands. Logos. Images. Fonts; Ayamae Marks - Bookmark the Web; Ayamae Forog - It's a Forum and a Blog :); Ayamae StockWrap - Your Complete Stock Solution; and Ayamae Chat - Chat. Send. Smile. Transfer" -- the company remains largely a mystery.
"We will remain a small fish in a big pond, rather than a big fish in a small one" states Tim. "Our products will speak for themselves when we are ready to release them and not before. So until that point, keep checking our blog and the screenshots provided on Ayamae"
To review current product developments, visit the Product Development section of the website.
For media interviews, contact Ayamae™ or Kelly Charlton
###