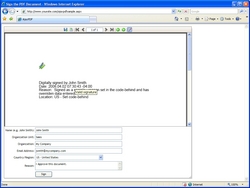 Cumberland, RI (PRWEB) June 15, 2008
Indigo Eight Software's release of AjaxPDF 2.0, the latest update to the leading ASP.NET control for displaying PDF documents, adds the ability to apply digital signatures to PDF document from a Web browser-based. The update also adds a wealth of new display features to customize PDF document viewing and management.
The new digital signature feature displays a signature panel within the Web browser allowing customers, partners and even previously anonymous visitors sign the PDF. The signed PDF document can be saved to the signer's local drive, emailed or saved to a secure location. AjaxPDF will generate a digital signature certificate on-the-fly or it can be integrated with an authentication system whereby a pre-existing certificate is used. Additionally, the signature feature can be integrated with other third-party digital signature solutions such as signature capture devices.
The AjaxPDF 2.0 update also introduces new display options for the PDF document. In previous version, the PDF document was display in-line within the document. Now, in addition to that option, the PDF document can be displayed in a movable "window". The PDF document's window can be moved, resized, expanded to fill the screen and much more.
Combined with AjaxPDF 2.0's support for the Cascading Style Sheet (CSS) standard, the window can be customized to mimic the look and feel of common operating system's windows or be easily customized to meet a site's design theme. AjaxPDF 2.0 includes a number of pre-built "skins" for this new window feature including the classic AjaxPDF window style, one that mimics Microsoft's Windows XP and another in the Apple's Mac OS "Aqua" theme.
Another new AjaxPDF feature is the PDF document library. This feature allows PDF documents to be stored in an isolated location. Particularly useful for web applications deployed in shared hosting environments, the library provides a simple interface for loading, saving and displaying PDFs without requiring access to write to the Web server. The storage is accessible only via the AjaxPDF application, making it a secure alternative to shared or hosted file systems.
AjaxPDF is compatible with Adobe Reader 7.0.9 or later including the forthcoming Adobe Reader 9.0. AjaxPDF 2.0 supports the version 2.0 thorough 3.5 of the Microsoft .Net framework. It requires Visual Studio 2005, Visual Studio 2008 or the free Visual Studio Express Edition products. The update includes over 20 new samples ranging from examples of the new digital signature features, how to set the status of a loading PDF, examples on using the new AjaxPDF library for easy, safe storage of PDF documents in shared hosting environments and much, much more.
This new release builds on an already rich set of features that include:

Integrated display of PDFs within a web site that preserves the site's navigation, security and design.
Increase usability with pre-built or customizable navigational controls.
Allow users to fill, submit, save and send PDF forms. No coding or modifications to your PDFs required.
Make use of AjaxPDf's toolbar for navigating and viewing PDFs - or customize the toolbar with your own buttons, drop-downs, images, links, etc. to meet your needs.
Dynamic PDF creation or on-the-fly manipulation of existing PDFs.
A rich event model that allows you to subscribe to events and call your own methods - both on the client side via JavaScript or in ASP.NET.
Completely customize the appearance of the PDF display area, toolbar and toolbar items using standard CSS (cascading style sheets) via Class names and or Visual Studio property sheets.
Easy population of PDF forms using ASP.NET datasources, collections and even XML files.
Pre-built actions for common navigation, form saving or submitting, zooming, printing and much more that can be used immediately "out-of-the-box", customized, or extended.
Visual Studio 2005 , 2008(and Express) Features

AjaxPDF consists of 5 Web Controls - the AjaxPDF control, plus the button, drop-down, link, separator and textbox toolbar Web controls. You may also use the many third-party or standard Visual Studio Web controls as toolbar items.
Use the Task panel for quick and easy configuration of AjaxPDF - without writing a single line of code.
Design-mode toolbar template that allows an integrated preview and drag-and-drop configuration of toolbar items.
Easy-to-use dialog boxes for configuring the PDF document's properties, security and other options.
An extensive set of properties that can be set to customize the toolbar and how the PDF is displayed - all reducing (or eliminating) code written.
AjaxPDF includes a sample ASP.NET 2.0 Web site with nearly 20 functional, documented examples of AjaxPDF including form population from files and databases, dynamic loading of PDFs, client and server-side event management and creating and displaying PDFs dynamically.
AjaxPDF 2.0 pricing starts at $249 (US). Other versions with additional support options are available. AjaxPDF can be licensed either by the domain name or with a royalty-free license (approved for redistributing AjaxPDF in third-party commercial ASP.NET applications) for general use (without registering it to one or more domain names). Pricing for the royalty-free version starts at $999 (US). Additional domain name license can be purchased at $29 (US) each.
A trial version of AjaxPDF is available from the Indigo Eight Software Web site at http://www.indigoeightsoftware.com. The trial version is fully-functional and may be license for production deployment at any time.
About Indigo Eight Software
Indigo Eight Software develops wildly innovative, cost-effective PDF solutions. Set to bridge the gap between enterprise-level system functionality and affordability, Indigo Eight Software leverages the partnerships it establishes with each customer and client to uniquely address their needs. The company has grown out of more than 15 years of experience in developing software and solutions for a wide range of customers. Indigo Eight Software is located in Cumberland, RI.
Contact:
Gordon Kent
press @ indigoeightsoftware.com
# # #