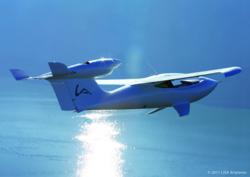 The AKOYA embodies a new generation of seaplanes dedicated to both sightseeing and cross-country flights
Le Bourget du Lac, France (PRWEB) May 03, 2012
Following the European success of the AKOYA and in answer to the increasing interest from the North American market, LISA Airplanes will present its amphibious light airplane at EAA AirVenture Oshkosh (Wisconsin, USA) at booth 446/457, from July 23rd to the 29th, 2012.
EAA AirVenture is the largest airshow in the world. Attended by 500,000 visitors every year, it is the place to be for all aviation enthusiasts.
Thanks to its Multi-Access patented technology and unique design, LISA Airplanes proposes an unprecedented light airplane for the American market. The combination of Seafoils, which are cutting-edge hydrofoils located under the fuselage, the skis integrated with the retractable landing gear and its pivoting wings, offers an unequalled freedom and pleasure of flight. Take off from snow then land on water on sea, lake or river in another region is now within reach of everyone.
As the only aircraft in the world using the Seafoil technology, the AKOYA embodies a new generation of seaplanes dedicated to both sightseeing and cross-country flights. Thanks to an audacious vision of a highly skilled team, the AKOYA combines the qualities of a type certificated aircraft while fulfilling the S-LSA regulation (CS-LSA in Europe). With a top speed of 138 mph (222 km/h) in the US and 155 mph (250 km/hr) in Europe, a range of more than 1,000 miles (1,600 km) and a low fuel consumption of only 36 mpg (3.3 gal/h; 6.5 L/100km), pilots will appreciate this performance along with the versatility of the AKOYA.
About LISA Airplanes
LISA Airplanes, a French company created in 2004, produces and distributes upscale airplanes and associated services. The vision of the company, centered on Mankind and its mobility, and a daring team that combines technology and Design, revolutionize aviation and propose new lifestyles. This has given birth to a new way to travel; the AKOYA is the first creation.
About EAA AirVenture Oshkosh
For one week each summer, more than 500,000 EAA members and aviation enthusiasts from 60 countries gather at EAA AirVenture, Wittman Regional Airport in Oshkosh, Wisconsin, where they rekindle friendships and celebrate the past, present and future in the world of flight.
"The World's Greatest Aviation Celebration" has it all when it comes to aircraft, Vintage, Homebuilts, Ultralights… Some you would normally find in a hangar at your local airport, others so unique they are the only one of their kind.