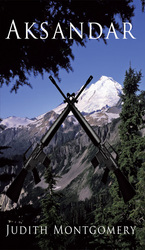 Most people in the U. S. do not have a clear understanding of Afghanistan and the current sate of chaos
The Villages, Fla. (Vocus) November 18, 2010
When political blackmail and corruption forces dangerous conflicts onto the streets and into the villages of Afghanistan and turmoil threatens tradition and the loss of the Afghan identity, it is up to one man to bring honor back to his people.
Judith Montgomery's Aksandar takes readers into the heart of Afghanistan in 1979, six months before the Russian army invaded Afghanistan. Aziz Rashani chooses to fight the oppressors.
As eloquently told in The Kite Runner, so much of the history of the Middle East is chaotic. Rashani's struggles help readers understand how the invasion affected everyday Afghans.
"Most people in the U. S. do not have a clear understanding of Afghanistan and the current sate of chaos," Montgomery says. "I want to help build a clearer picture of Afghanistan, its people and their determination to establish a unique identity of their own. This is a story that needs to be told: Afghans fighting for Afghanistan, the upheaval, the love, the meaning of honor."
"As each chapter ended I found Montgomery's gripping tale impossible to put down and I hurried to start the next one while guiltily telling myself as soon as I finished THAT chapter I would get the sleep I desperately needed," Charline Ratcliff writes on RebeccasReads. "In summary, a powerful story which I highly recommend as a must-read!"
Reader M. M. Schmidt writes, "I was enthralled by the danger, the exhaustive daily plot of the characters, their own journey. I willed them on with my own cheering and cried when they cried. It's powerful. It's beautifully written. Judith Montgomery is a debut author who has an extraordinary voice that needs to be heard."
Aksandar is a story of secrets, deceit and determination. It is the chance for a country that has lost its voice to be finally heard.
For more information, visit http://www.aksandar.com.
About the author
Montgomery has traveled extensively in Afghanistan and throughout the Middle East and Central Asia. Over the years, she has developed a great love and respect for the Afghan people and their struggle to survive as citizens of an independent country. Her own personal search for truth has become the inspiration for Aksandar. She currently resides in The Villages, Fla.
# # #