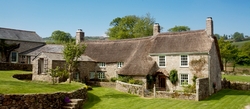 "Great Britain has always been a popular vacation destination, but with a royal wedding and the 2012 olympics on the horizon we are receiving more enquiries than ever" Charlie Stephenson, MD
(PRWEB) February 15, 2011
Vacation rental specialist, Abercrombie & Kent Villas is adding to its exquisite portfolio of handpicked properties, with sixteen luxury holiday rentals in England and Scotland. Located in four of the most enviable locations, the A&K Villas team has been working hard to uncover some absolute gems from Cornwall with its beautiful natural light and colony of artists to the romantic and rugged Scottish Highlands, via the chocolate box villages of the Cotswolds and the bright lights of the capital, London.
Guests staying at any of the A&K villas in Great Britain can expect outstanding support in the form of a local team, including hosts to arrange local chefs, sightseeing guides, fishing or golf trips, whisky tasting and even private parties upon request. Properties include rural thatched Cotswolds cottages, elegant townhouses, grand apartments, beautiful barns, manor houses and even a castle. As you would expect, each property is completely unique, and comes with the unparalleled standard of comfort and furnishings you expect from A&K Villas.
Devon & Cornwall
Devon and Cornwall offer great dining experiences courtesy of Rick Stein and Jamie Oliver, wild Atlantic beaches for surfing, sailing or simply taking a stroll along, tropical gardens, art galleries, dairy cream teas and fishing trawlers unloading hauls of spider crabs.
Holiday Cottage in Cornwall – Rock | Bedrooms: 4 | Sleeps: 8
Treverra Cottage is situated in an enviable position enjoying extraordinary views over the Camel Estuary, close to the village of Rock in north Cornwall. The cottage is set in landscaped gardens with a tennis court and heated outdoor infinity pool and Jacuzzi whilst inside, six adults and two children can be comfortably accommodated.
The Cotswolds
A land of honey coloured stone houses, medieval churches and village ponds, punctuated by the grand city of Bath with its splendid Georgian architecture and romantic Roman ruins.
Cotswolds Manor House - Temple Guiting | Bedrooms: 5 | Sleeps: 10
Set in 14 acres of landscaped and formal gardens and with mentions as far back as the Doomsday Book, this manor house is a medieval timepiece that has been updated compassionately, retaining its host of medieval features. Despite is ancestry the house is equipped for modern guests with plasma TVs, a DVD library, excellent kitchen facilities and with several open fires/wood burning.
Scotland
Scotland is a land of immeasurable beauty, defined by lochs, lairds and legends! Never known to shy away from a celebration, the capital Edinburgh erupts in celebration at New Year and during the world-famous fringe festival. For something completely different, try not to miss the captivating Highland games.
Private Scottish Castle - Loch Ness | Bedrooms: 15 | Sleeps: 28
The only habitable Castle on the shores of Loch Ness, this baronial estate offers all the fairytale grandeur and glamour you could wish for from a Highlands castle with turrets, towers, nooks and crannies a plenty! The Castle has been beautifully restored from the deepest wine cellar to the top of the spires to create a luxurious yet intimate home in which the attention to heritage and period detail is matched by the quality and comfort of the furnishings.
London
"When a man is tired of London, he is tired of life; for there is in London all that life can afford." The sentiment of the poet Samuel Johnson can today be felt stronger than ever through the capitals abundant galleries, parks, gardens, world famous markets, vibrant nightlife, hidden architectural treasures, fashionable eateries, and theatres.
London Apartment – London | Bedrooms: 3/4 | Sleeps: 8
This five-storey, three/four-bedroom London townhouse has a prime location in Regent's Park, and stylish, masculine interiors stocked with mid-century design classics. Charles Darwin was a previous guest at this house and John Nash was responsible for the building's Regency architecture – cream stucco and elegant pillars, typical of this postcode.
There is never a bad time to visit the UK as you will always find a calendar bursting with cultural highlights. Food, music, sport & art are celebrated in spectacular and sometimes unusual fashion, and with the announcement of a Royal Wedding and the approaching 2012 Olympics, there is a definite buzz in the air.
For further information on A&K Villas' portfolio in Great Britain, see: http://www.akvillas.com/britain/
A&K Villas offers luxury vacation rental properties in Italy, France, Greece, Spain, Portugal, Britain and North America. Properties range from villas, apartments, manor houses, cottages and castles to luxury ski chalets.
Follow A&K Villas on Twitter: @AKVillas
###