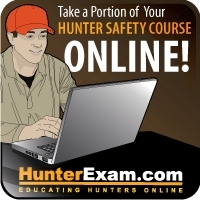 With this new fun and interactive online course available in Alabama, we can get more young hunters interested and involved in the sport of hunting
Athens, AL (Vocus) July 7, 2010
The Alabama Division of Wildlife & Freshwater Fisheries is the latest state agency to adopt HunterExam.com's online hunter safety course which will allow students to attend a hunter education Field Day and obtain their Alabama Hunter Education Certificate. A hunter education certificate is required for most hunters who wish to purchase an Alabama Hunting License.
"With this new fun and interactive online course available in Alabama, we can get more young hunters interested and involved in the sport of hunting," says Kerry Moher, V.P. Business Development at HunterExam.com, "Kids today don't want to spend an entire weekend sitting in a classroom. The online course is simple and engaging, and hunter education instructors agree that it's a great teaching tool for students of all ages."
Ray Metzler, Hunter Education Coordinator with the Alabama Division of Wildlife & Freshwater Fisheries hunting education section, is enthusiastic about the implementation of this new online option. "We're very happy with the level of quality in this online hunter safety course. Our agency worked with the HunterExam team to ensure that all topics in the online course are relevant and accurate with Alabama hunting regulations and the current Alabama hunter education program. At the Field Day, all students will have the same knowledge-base, which will allow instructors to focus on hands-on activities, and reinforce the rules of firearm safety."
With a focus on a positive student experience, HunterExam's online course is professionally narrated, contains over 60 interactive animations and exercises, and each exam question is complete with illustrated visual aids to help with retention. "Since this is only a portion of the complete Alabama hunter safety course, we do not believe in a single final exam," says Moher, "instead, there is a 10-question quiz at the end of each chapter that focuses only on the material presented. The goal is to prepare students for the final exam, given by the instructor at the Field Day."
Alabama is the 27th state to adopt the HunterExam online hunter safety course in less than 2 years. Other HunterExam resources include a free treestand safety course that meets standards from the Treestand Manufacturer's Association (TMA), and three interactive online shooting ranges, powered by HE Tools™.
The online hunter safety course has a one-time fee of $24.95, paid once the entire course has been completed. For more information on HunterExam or the Alabama hunter safety course, please visit HunterExam.com.
###