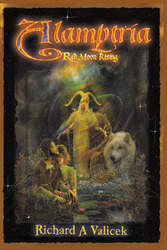 Toronto, Ontario (Vocus) November 11, 2010
The peaceful kingdom of Elysium has been rocked by an unthinkable tragedy; the king has been murdered. To make matters worse, the kingdom is being assailed by creatures from the underworld. So begins Alamptria: Red Moon Rising (published by AuthorHouse) the new fantasy novel by Canadian author Richard A. Valicek.
As the new king of Elysium is coronated, the kingdom prepares to face and repel the evil that threatens its very existence. Fully grasping the gravity of the threat that faces his people, King Confidus Seaton sends his three sons, Caprius, Dragus and Andromin, on quests to secure allies and address the evil that is spreading across the lands.
The king sends Caprius to the city of Krog in the land of Muforia to investigate the reason behind the brutal killing of the former king. The great Kongorf leader, Agopar, agrees to cooperate only if Caprius and his army go to the mountains of Muforia and kill the creature responsible for many of the Kongorfs' deaths and return with the Mooka creature's head.
Simultaneously, Dragus and Andromin Seaton are sent on a spate mission: to investigate the disappearance of Bombidus Barrons, a member of the Elysium ruling council. To their horror, they learn that Bombidus has been secretly importing caskets. Dragus and Andromin discover humans are disappearing and an entire vampire cult has sprung up below the monastery of St. Peters. What is worse is that Bombidus appears to be directly involved in the cult.
Can the three heroic brothers fulfill their quests in time or will the darkness overtake the entire world? With magic, mythical creatures, epic adventure and a classic good versus evil story, Alamptria: Red Moon Rising provides a gripping read that is sure to entice any fan of the fantasy genre leave them clamoring for more.
About the Author
Richard A. Valicek was born and raised in Toronto Canada. He graduated with a degree in creative writing from George Brown College. After completing his education he began to work on his first novel – Alamptria: Red Moon Rising, a story that he would spend the next seven years writing. Valicek is currently working on the second book in the series.
AuthorHouse is a premier book publisher for emerging, self-published authors. For more information, please visit http://www.authorhouse.com.
###